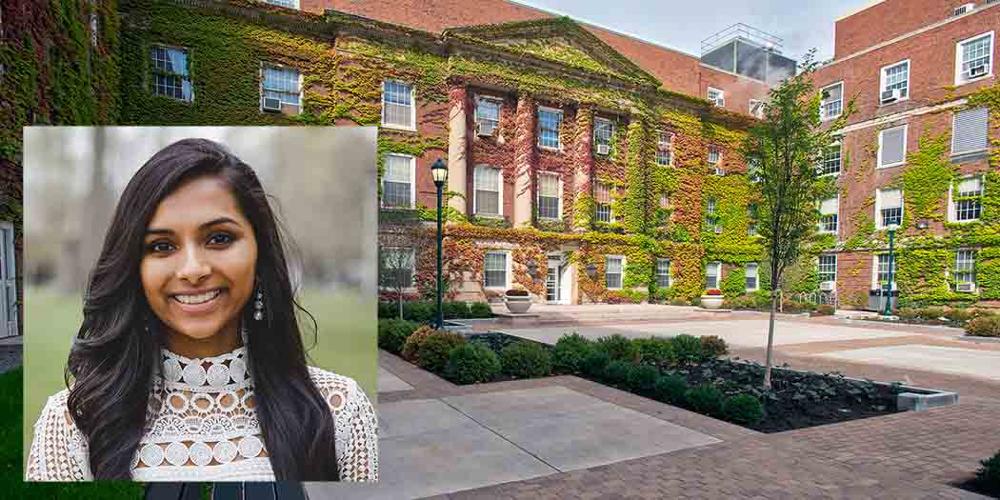 Students organizing TEDx talk to be streamed from Upstate
Upstate Medical University will be hosting a virtual TEDx event March 6 that will feature speakers including Upstate's own Patricia Numann, MD; Robert Corona, DO; Rajnish Mago, MD, and Robert Swan, MD.
They will be joined by 12-time Olympic medalist Dara Torres and podcaster Mark Shapiro, MD.
The team had to choose from a pool of more than 200 speakers to be part of the half-day event, said Sruti Akula, (pictured above) a second-year student in the College of Medicine, the event's organizer. From those applicants, a committee of students selected the six speakers whose talks will be streamed.
"The selection was based on what would be most interesting and beneficial to the audience," Akula said. Additional criteria included that speakers be out-of-the-box thinkers and represent diverse ideas. Also, she said, a goal was to showcase innovative members of the local community.
Thanks to streaming, the audience won't be limited to those in the community, or even the continent. The event has already seen registrations from across the globe, including registrants from Europe, Singapore, and even as far as Australia, Akula said.
 Akula also mentioned her plans to start a scholarship to fund an out-of-the-box thinker in their innovative pursuits. The scholarship will be open to individuals internationally, but preference will be given to local community members.
The March 6 TEDx Talk will start at 10 a.m.
Work on the day began more than a year ago, she said, and she got approval from the TED organization before approaching Lawrence Chin, MD, dean of the College of Medicine to be the team's advisor. He was enthusiastic about the event and has been very supportive. He will be providing introductory remarks for the event. 
Upstate President Mantosh Dewan, MD, will provide opening remarks.
For Akula, much of this is nothing new. Now 23, she organized her first TED Talk when she was 16 and attending high school in Horseheads, NY. Since then, she has organized five others — including two while a student at Clarkson University — plus the March 6 event.
The team putting together the TEDx event includes Akula's classmate, Aria Soltani, who is the team's head of technology. First year College of Medicine students on the team include Craig Rose, head of finances; Katrina Stevens, Anjlee Panjwani and College of Graduate Studies student Nathan Munoff, logistics; and College of Medicine student Christine Zhang, public relations and media. Also, on public relations and media is Abhishek Akula, a sophomore at Arizona State University, Sruti's brother, who has also co-organized events in the past. 
To stream the event, go to www.tedxsunyupstate.org. The streaming will begin at 10 a.m. on March 6. There will be no in-person audience the day of the event in response to COVID-19.