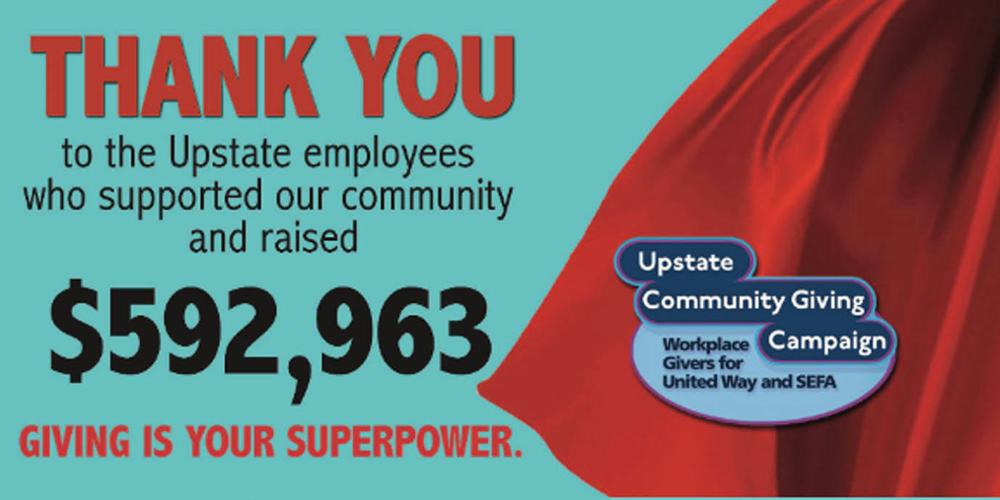 Upstate raises $592,963 for Community Giving Campaign
Upstate recently wrapped up its annual Community Giving Campaign, with employees pledging the fourth highest total amount in Upstate's 40-plus years participating.
During the campaign that ran from Aug. 24 to mid-December, 1,260 donors pledged $592,963.42. The top agencies receiving support from the campaign are the United Way of Central New York, the Upstate Foundation, the Food Bank of Central New York, America's Best Charities, Vera House and Francis House. The campaign supports more than 100 agencies throughout Central New York.
Upstate employees have donated $12.4 million through the campaign since 1986. The theme of the campaign the last several years has been, "Be a hero. Giving is your superpower," with employees broken up into teams by department. For the third year in a row, the team with the highest percentage of employees participating was the "Wizards," from Upstate's Information Management and Technology department with a 40 percent participation rate. 
Campaign co-chairs were Gennady Bratslavsky, MD, professor and chair of the Department of Urology and Mark Schmitt, PhD, dean of the College of Graduate Studies and professor of biochemistry and molecular biology. 
Upstate employees from all departments, including the Research Foundation, MedBest Medical Management and medical residents participated in the campaign. Upstate retirees were encouraged to participate and this year's campaign included a direct mailing with a message from retired Deputy Director of Nursing, Sharon Klaiber, MS, RN, NEA-BC. Twenty-eight retirees pledged $44,310 to the campaign, said Campaign Director Zanette Howe.
"This is a team effort and I'm so proud of everyone who worked on the campaign and who donated," Howe said. "Upstate is committed to supporting our community in this way and a lot of people stepped up their giving this year."
Howe said she and others involved in the campaign recognized this year's fundraising efforts as especially important given the financial hardships the COVID-19 pandemic have placed on so many families across the country.
"I was very concerned about the poverty in our community and I was hoping that people would step up because we have been very fortunate at Upstate," she said. "I'm so proud of my colleagues who gave a little more to help a community that is really struggling."
The 2020 campaign raised $23,173 more in 2020 than 2019 and was the second most successful in the SUNY system, Howe said.
Nancy Kern Eaton, president of the United Way of Central New York, said many in the community will benefit from the generosity of Upstate employees.
"Our community is incredibly fortunate to have one of the world's leading health care organizations," Eaton said. "Through these unprecedented times, Upstate University Hospital provided outstanding health care, leadership and education to us all. The Upstate team offered compassion, care and comfort while enduring tremendous personal health risks. What an exceptional honor it is to celebrate a successful Community Giving Campaign during a year that required so very much. It is a privilege to partner with the extraordinary employees at Upstate to sustain the vital network of community-based human services."
Upstate made several changes to this year's campaign because of the ongoing pandemic, Howe said. All communication to employees about the campaign was done digitally and more than 94 percent of donors used the e-pledge option.
Additional highlights of the campaign include:
19 medical residents pledged.
84 donors pledged at the Elizabeth Blackwell level ($2,000 or more).
132 donors pledged at the Hamilton White level ($1,000 or more).
44 of those higher-level participants were new donors.
Members of this year's Community Giving Campaign are Zanette Howe, Susan Keeter, Stephanie DeJoseph, Becca Pesci, Karla Moreno-Perez, Linda Veit, Catherine Cadley, Tree Carter, Mark Congel, Kylee Deese, Kelly Dolan, Amy Green, Susan Graham, Diane Mantooth, Katherine Magnarelli, Nancy Prott, Meghann Sandak, Tammy Blackburn, Naina Sawal, MD and Emily L Albert, MD.