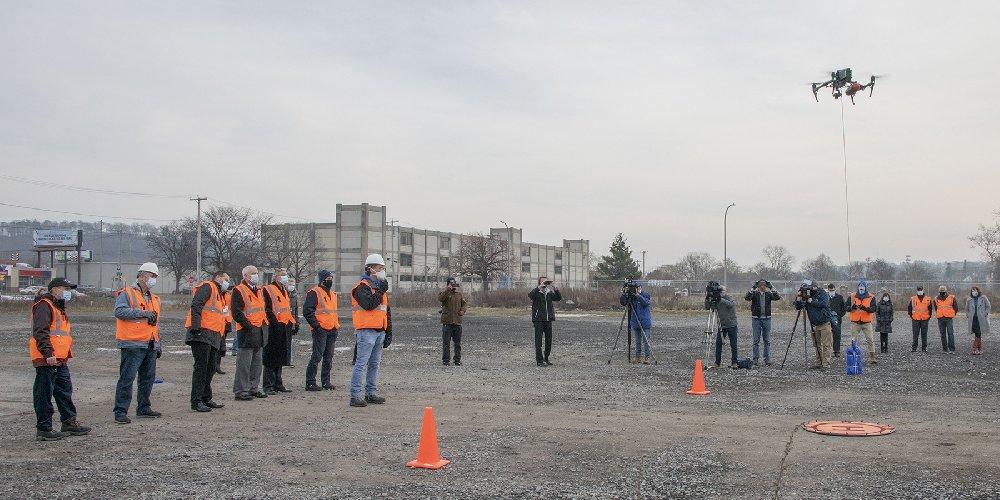 It's bird. It's a plane. It's a drone.
It's a bird. It's a plane. It's a drone carrying a COVD-19 test kit that made a successful test flight from Upstate's helipad to the Central New York Biotech Accelerator four blocks away.
The Upstate flight was the first of its kind carried out by the DroneUp team to operate with a Federal Aviation Administration (FAA) Section 107.39 Operation Over People Waiver, allowing flight over non-participating persons and moving vehicles to support the drone delivery of COVID-19 test kits anywhere in the United States.
"This has been a dream of mine since the day I came to Upstate as a pathologist, when I looked at the ability of Upstate to use drones to send medical materials, perhaps specimens, to our labs all over town," said Robert Corona, DO, MBA, chief executive officer of Upstate University Hospital. "This is a great breakthrough for Upstate and the sky's the limit of what we might able to do in the months ahead with the drone technology.
Upstate's foray into the skies has been the effort of many. In addition to DroneUp, others offering assistance are NUAIR, who provided drone pilot training at the New York UAS (Unmanned Aircraft Systems) Test Site at Griffiss Airport; Emergent 121 Consulting, sponsor and facilitator of the Upstate testing project; and Akin Gump, LLP who helped form and manage the COVID-19 Humanitarian UAS Response Partnership (CHURP).
"What a wonderful way to start off the new year," said Upstate Medical University Mantosh Dewan, MD. "We can now look forward, but we can also look up as we launch Upstate Air. This continues a long tradition that we started last year with innovation as well as collaboration with our own information management and technology folks and our private industry partners and organizations."
Tripp Shannon of DroneUp celebrated the accomplishment with Upstate. "This is the first of its kind; this is the future that you're seeing, I think, in how packages are going to be delivered both businesses to businesses and businesses to consumers."
The drone testing last week featured multi-day flight operations and evaluations of two separate use cases to prepare for potential wider-scale deployment. The first use case was the UAS transport of COVID-19 testing kits safely and quickly between facilities on the SUNY Upstate University Hospital Campus in downtown Syracuse. After testing operational procedures and a comprehensive review about COVID-19 related drone delivery, officials learned how to minimize potential exposure to health personnel and public members. The team also exercised real-time airspace deconfliction protocols when an air ambulance flight landed with a patient at the hospital's heliport.
The second use case utilized three UAS in support of New York State University Police at Upstate Medical University to monitor the medical delivery operation described above and identify any potential safety risks on the ground. The information gathered will be used to support future scalable operations for public safety agencies in response to COVID-19 and other emergencies.
Caption: Upstate officials and others involved in the drone exercises held last week at Upstate watch the drone landing as local media recording the occasion.