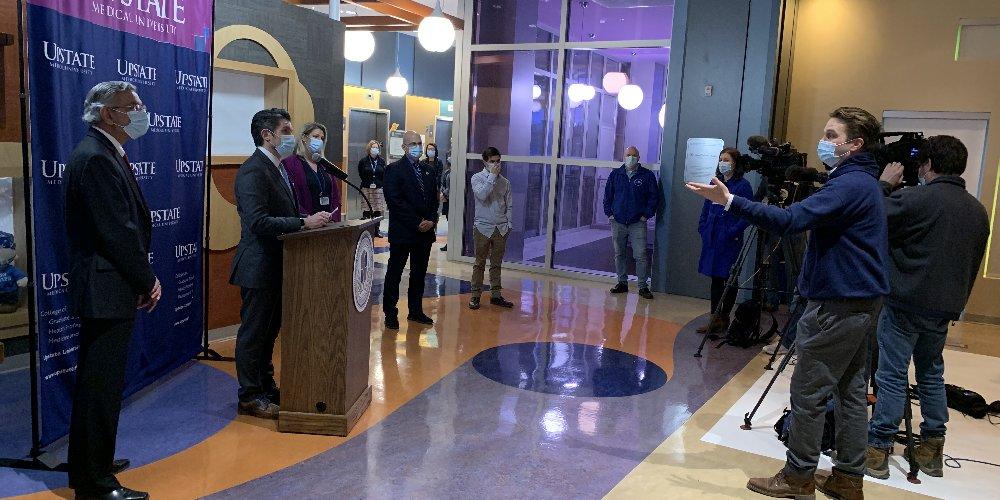 Upstate begins administering second dose of COVID-19 vaccine to frontline personnel
SUNY Upstate Medical University has begun administering the second dose of the COVID-19 vaccine to frontline personnel and has distributed 100 percent of its initial vaccine allotment after receiving its first three deliveries last month. SUNY Upstate medical staff have now begun administering another allotment of the vaccine received this week.
Frontline healthcare personnel across SUNY's three university medical hubs are now receiving the second dose of the COVID-19 vaccine. In addition to Upstate Medical, which began the second dose on Monday, Stony Brook University Hospital began administering the second dose today, and SUNY Downstate Health Sciences University began administering their second dose yesterday.
During a visit to Upstate, Chancellor Jim Malatras met with President Dr. Mantosh Dewan, Upstate University Hospital Chief Executive Officer Dr. Robert Corona, and healthcare personnel to discuss the vaccination distribution process, as well as Upstate Medical's COVID-19 test, which was recently named most accurate saliva test in the world by the U.S. Food & Drug Administration. The test detects the UK strain of the virus, which experts believe is markedly more contagious and was discovered in Saratoga County earlier this week. Upstate Medical's saliva test will continue to be used regularly by SUNY campuses for mandatory testing of students, faculty, and staff ahead of and throughout the spring semester.
"It's hard to overstate how much Upstate Medical University and their hospital frontline personnel and researchers have done in the battle against COVID-19 over the last 10 months," said Malatras. "From treating COVID-19 patients to developing the world's most accurate saliva test to leading vaccine trials, SUNY staff and students have tirelessly worked to bring the virus to heel. Our three university hospitals are proving that SUNY can set the standard for distributing the vaccine in an efficient manner while also handling a winter wave of the virus. There are many heroes at SUNY Upstate and across the SUNY system."
Dewan said, "Upstate Medical University was thrilled to begin administering second doses of the COVID-19 vaccine to members of our Phase 1A staff Jan. 4. It is critical that we keep our frontline workers—especially those treating COVID-positive patients—safe, healthy, protected and working, and the two-part vaccine will help us do that. We are working diligently to vaccinate as many of our own staff as quickly as possible—while also serving as the hub for a five-county region—in order to curb the virus and protect our staff and the larger community."
Corona said, "SUNY Upstate has shown dedication and excellence in every task throughout the COVID-19 pandemic. From testing to research to clinical care—Upstate delivered. Now, our team has administered 100 percent of our vaccine supply so we can protect our staff and continue to serve our community. Upstate is ready to handle anything that comes our way."
SUNY's hospitals have been at the forefront of caring for patients in some of the hardest hit locations, including SUNY Downstate Health Sciences, serving as a COVID-only hospital, and Stony Brook University Hospital on Long Island during the first surge in cases last spring. Upstate Medical Infectious Disease Chief Dr. Stephen Thomas served as principal investigator for the Pfizer/BioNTech vaccine, which was approved last month.
Caption: SUNY Chancellor Jim Malatras, at the podium, congratulates Upstate on starting its second round of COVID-19 vaccines, while visiting Upstate Jan. 6. With Malatras are Upstate President Mantosh Dewan, MD; Stefanie Fargnoli, associate vice chancellor for academic health and hospital affairs; and Robert Corona, DO, MBA, chief executive officer of Upstate University Hospital.