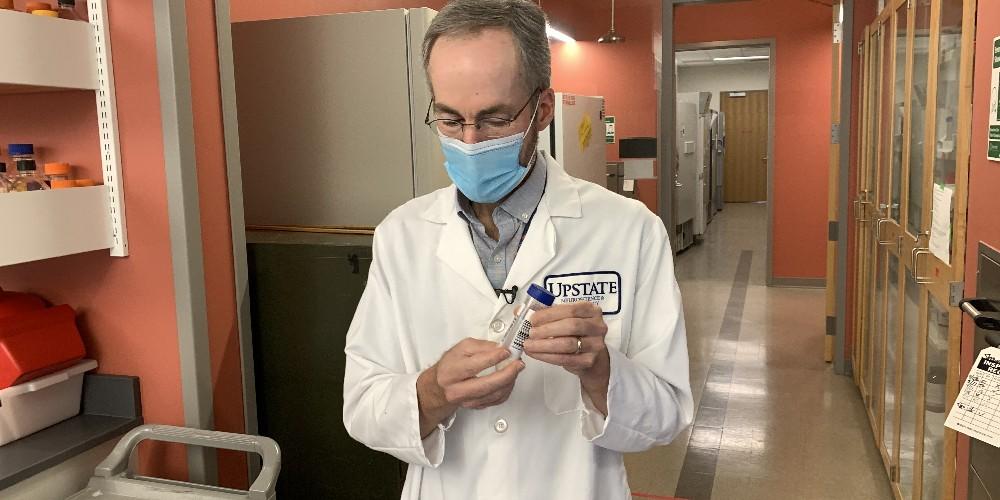 MedTech salutes as Project of the Year the saliva swab test for coronavirus
Upstate Medical University, Quadrant Biosciences have received one of MedTech's 2020 Honors for its work developing a saliva swab test to detect the coronavirus.
MedTech named the Upstate and Quadrant Biosciences COVID diagnostic saliva test as Project of the Year. The saliva swab test is being used across New York state and throughout the SUNY system. The honor is "awarded to an initiative that has had a singular and demonstrable positive impact on public health," according to MedTech.
Med Tech is state-wide trade association of more than 100 pharmaceutical, biotech and medical technology companies, their suppliers and services providers, and research universities.
The test developed by Upstate Medical and NY Start-Up Quadrant Biosciences, called Clarifi COVID-19, recently received a No. 1 ranking for COVID-19 saliva tests by the U.S. Food and Drug Administration for detecting the virus in its earliest stages. The test was cited by the FDA as being among the most sensitive tests regardless of type, ranking sixth worldwide in detecting the virus. The test is also cost-effective and easy to use, which Gov. Andrew Cuomo credited for helping SUNY campuses across the state pinpoint cases at the earliest stage of the virus.
"We sincerely appreciate MedTech recognizing the work that Upstate and our partner Quadrant Biosciences have done in developing this life-saving test," said Upstate President Mantosh Dewan, MD. "The test is ground-breaking, cost effective and easy to use to detect the coronavirus in its earliest stages. We are proud of this honor as the project is indicative of the incredible research and work happening at Upstate every day."
MedTech Executive Director Winthrop Thurlow said Upstate's saliva test "leapt off the page," when the organization was considering its annual honors.
"It was really the stand-out project of the year," Thurlow said. "One of the criteria is the project should have a significant impact on the industry in New York or the advancement of healthcare in New York state. When we look at the Upstate/Quadrant partnership we really saw that as a significant advancement over the last year in the delivery of healthcare. And it clearly won't be limited to the residents of New York state, it has worldwide potential."
MedTech is hosting a free virtual Honors Ceremony 4 to 5:30 p.m. Thursday, January 14. For more information about the ceremony including a list of all of the 2020 honorees, visit medtech.org.
 Caption: Professor Frank  Middleton, PhD, with the Clarific Covid disgnostic saliva swab test he helped developed with others at Upstate and Quadrant Biosciences.