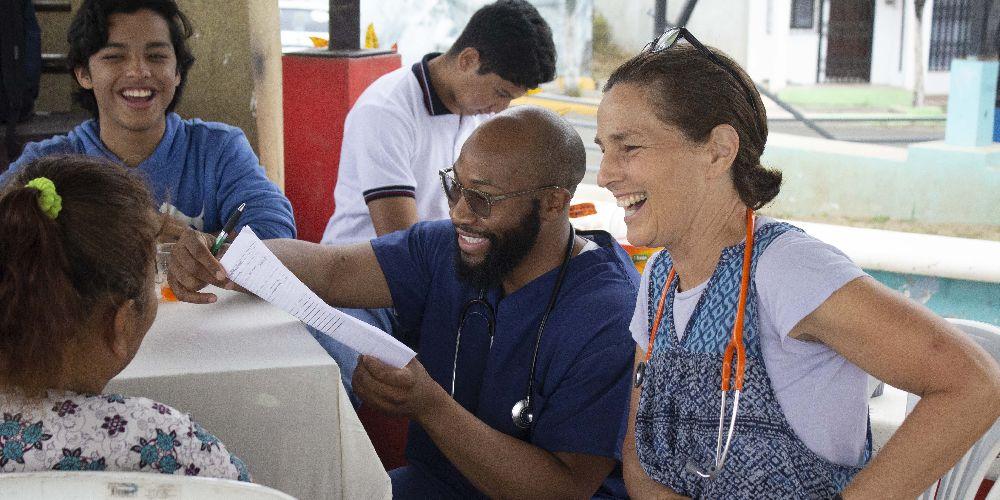 Upstate MPH program adds Global Health concentration
SYRACUSE, NY — Upstate Medical University College of Medicine is expanding its Masters of Public Health program, adding a concentration that will see students traveling overseas to cap their studies.
The Global Health and Translational Science concentration joins Data and Analytics, in which students learn how to use "big data" to address public health concerns, and Population Health for Clinicians, a program for medical students and those who have already earned an MD.
"There has never been a greater understanding of the importance of public health, or a greater need for motivated people to step up to the challenge," said Christina Lupone, MPH, director of the new concentration.
The COVID-19 pandemic brought home for many the link between individual health and public health, she said. "The pandemic  has shown that a virus can overwhelm our individual efforts to be healthy and conversely, the important ways public health practitioners can help protect the health of individuals in our communities."
Each of the MPH concentrations require 42 credits, mostly earned on campus.
The new Global Health concentration will launch next summer and will run for 14 months, with students spending the final six weeks at one of Upstate's Institute for Global Health and Translational Science affiliates in South America or Africa.
"The new program is an opportunity for students to apply public health knowledge with on-the-ground action in places where public health challenges are ongoing," said Lupone. "Now, more than ever, we recognize the need to train students in innovative and collaborative public health solutions locally and globally."
The new concentration, which is planned to be presented on campus, includes a course on researching and developing approaches to global health problems. Taught by Stephen Thomas, MD, the global lead principal investigator for Pfizer/BioNTech's COVID-19 vaccine trial, the class will cover the special challenges of working on global health problems and how they can be successfully met.
Faculty for the program includes clinicians, as well as experts in regulatory science, public health and quality affairs. "The diverse faculty will help students learn what it takes to develop medical countermeasures for global health problems, such as COVID-19, from the laboratory to the community," Thomas said.
Another course is designed to help students refine their interests and match them with existing Upstate projects overseas. There are opportunities for field work, lab research as well as clinical and non-clinical experiences. "The goal is not just for students to learn in a global setting, but to work alongside Upstate faculty and global partners to help improve the health of the people there," said Martha Wojtowcycz, PhD, director of the Masters of Public Health program.
"Nothing has underscored the fact that public health is global in nature, more than the rapid spread of the COVID-19 virus around the world. Global Health & Translational Science is the right concentration to add to our portfolio of offerings right now, and we are lucky to have a great global health team with which to partner in order to get it done," said Christopher Morley, PhD, chair of Public Health and Preventative Medicine at Upstate Medical University's College of Medicine.
"This is yet another example of the College of Medicine responding to the evolving challenges to public health here and around the world," said Mantosh Dewan, MD, president of Upstate Medical University.
Applications for the Upstate MPH, including the Global Health and Translational Science concentration, are available through SOPHAS. More information on the Upstate MPH is available at  https://www.upstate.edu/mph/academic/mph_degree/index.php . For questions about applying to the MPH program, contact Krystal Ripa, director of Special Admissions at smithkry@upstate.edu .
Caption: Upstate Medical University endocrinologist Barbara Feuerstein, MD, (right) and third-year medical student Moje Omoruan (middle) speak with patients in Bahía de Caráquez, Ecuador, during a 2019 medical brigade offered through the Upstate Institute for Global Health and Translational Science and NGO partner Walking Palms Global Health Initiative. A new Masters in Public Health concentration at Upstate will include students traveling to Africa or South America as part of their studies.