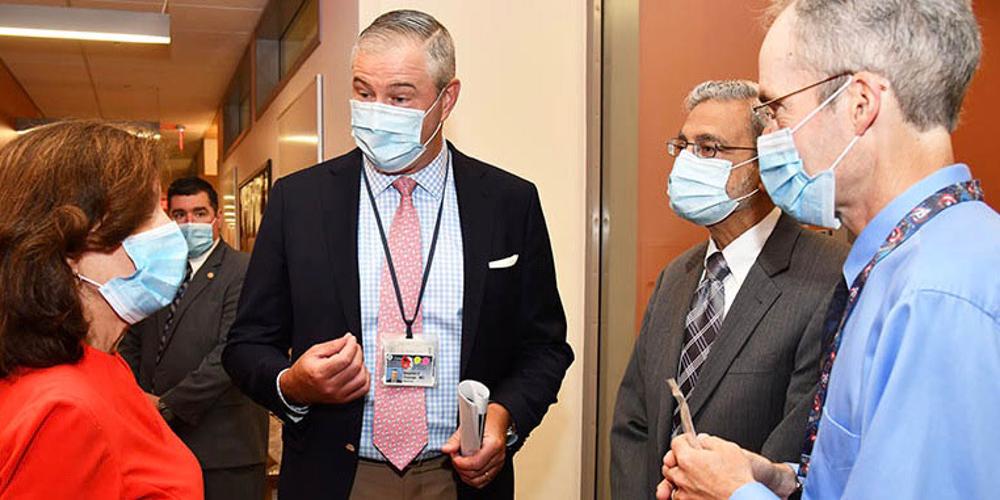 Upstate's Stephen J. Thomas, MD, part of public hearing Thursday as FDA considers Emergency Use Authorization for COVID-19 vaccine
Upstate's chief of infectious disease, Stephen J. Thomas, MD, will participate at a public hearing Thursday as the Food and Drug Administration (FDA) considers whether to issue an Emergency Use Authorization (EUA) for the Pfizer-BioNTech COVID-19 vaccine.
Thomas is the coordinating principal investigator for the world-wide Pfizer/BioNTech vaccine trial, which is showing more than 94 percent efficacy in preventing COVID-19. Upstate serves as one of the global phase three vaccine trial locations.
Starting at 9 a.m. Thursday, Dec. 10, the FDA advisory panel from the Center for Biologics Evaluation and Research's (CBER), Vaccines and Related Biological Products Advisory Committee (VRBPAC) will meet in open session to review and discuss Pfizer's COVID vaccine trial results and engage in a question-and-answer session. The meeting, which is expected to last all day, will be available for live streaming on YouTube, Twitter and through the FDA's website. It will also be recorded and available to watch later.
Thomas will represent the investigators' perspective during the question-and-answer session. His experience working with the Upstate Global Health team may be called upon to explain how the trial was executed in Syracuse, providing insight into how volunteers were enrolled and followed at more than 150 sites around the world.  
"Clinical trial operations are incredibly, incredibly complex," Thomas said. "Enrolling and following 44,000 people across more than 150 different sites in multiple countries requires numerous, highly coordinated teams. At Upstate alone we have dozens of people supporting the study from research coordinators to lab personnel, blinded vaccine administrators, recruiters, quality control, administrative support, and all of the people who make the business work and ensure that we are complying with regulations."
The public hearing occurring Thursday is a routine step in approving new vaccines, Thomas explained. Pfizer/BioNTech assembled a team of outside experts to evaluate the vaccine in order to present and answer questions to the CBER VRBPAC, which is expected to vote publicly at the end of Thursday's hearing. That recommendation will be sent to the FDA. The FDA does not deliberate in public but Thomas said he would not be surprised if it were to act very quickly.
"This advisory body is used to evaluating potential new vaccines that are being presented to the FDA for consideration for licensure, and in this case, for emergency use," Thomas said. "The VRBPAC exists to ensure there are objective, disinterested experts looking at the data and advising the FDA in a very transparent manner.
"It's an open process so that the public can participate and the public can be informed."
The public hearing serves two important roles: it's another step in the peer-review process, which is accepted by medical professionals around the world. It's also an opportunity to enhance public trust in the vaccines that end up on shelves in doctors' offices and hospitals, Thomas said.
"It's always important but it's even more important now with this pandemic and with the hesitancy that a significant percentage of Americans seem to have about a vaccine that's been developed in such a short timeline," he said.
Thomas said he understands people's concerns about the vaccine since it was developed at record speed in order to prevent COVID-19, which has infected more than 65 million people and killed 1.5 million people worldwide. He believes, however, that the vaccine combined with public health interventions is the best way to halt the virus.  
"If a vaccine is proven to be safe and effective using the scientific methods that have worked for hundreds of years, it is the most effective tool we have at preventing disease and keeping people healthy," he said. "The vaccine is not going to work if people don't take it. And people are not going to take it if they don't feel comfortable taking it. And they aren't going to feel comfortable taking it if they don't understand whether it is safe and that it works."
More information about the hearing, including how the public may submit questions, can be found here: https://www.fda.gov/advisory-committees/advisory-committee-calendar/vaccines-and-related-biological-products-advisory-committee-december-10-2020-meeting-announcement
Caption: Stephen J. Thomas, MD, (center), speaks with New York State Lt. Gov. Kathy Hochul (at left), with Upstate President Mantosh Dewan, MD, and Frank Middleton, PhD looking on.