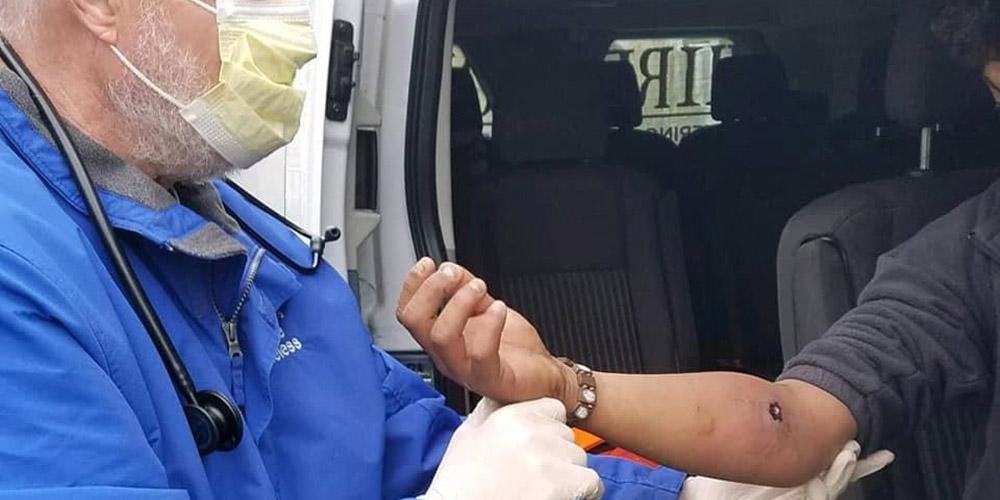 Upstate's Housecalls for the Homeless program receives support from Bank of America
Upstate Medical University's Street Medicine Program, Housecalls for the Homeless, is experiencing an increased need for medical supplies to stop the coronavirus spread in shelters and on the streets.
With colder weather approaching, Syracuse's homeless populations are more vulnerable to contracting the coronavirus. Bank of America, a local partner, recently stepped in awarding a $30,000 grant to the Upstate Foundation that will fund point-of-care equipment, medicine, coronavirus supplies, medical equipment, eyeglasses, dentures, and personal care items vital for the care of these at-risk individuals in Onondaga County.
Pioneered by David Lehmann, MD, PharmD,  and Mia Ruiz-Salvador in 2018, Housecalls for the Homeless is a street medicine program that provides medical, psychiatric, and addiction care services for men and women experiencing homelessness in Syracuse and Onondaga County. Street medicine aims to create relationships with individuals on the streets and sleeping at shelters to help them live healthier lives. The ability for vulnerable populations to access medical care through street medicine promotes a healthier lifestyle for homeless individuals by diagnosing and treating acute and chronic diseases, women's health, mental health, and disease prevention.
"Bank of America has been a long-standing partner of the Upstate Foundation for over three decades supporting major and meaningful initiatives across campus," said Eileen M. Pezzi, Upstate vice president for development. "With winter right around the corner and in the face of the continuing coronavirus pandemic, Bank of America's support comes at a critical time. This funding is vital in caring for and addressing the needs of women and men experiencing homelessness in our community."
Housecalls for the Homeless program provides basic medical and preventive care to those sheltering at the Rescue Mission, Catholic Charities Men's Shelter, Salvation Army Women's Shelter, and through In My Father's Kitchen, a mobile program providing food and basic necessities for individuals living outdoors. Knowing that the health crisis could quickly spread in shelters and onto the streets, Lehmann prioritized symptom screenings and maintaining sterile environments in the shelters, which created a new demand for patient care.
"Bank of America's funding helps continue necessary work in the community, especially as the health crisis created an increase of needs, services, and precautionary measures at the shelters we serve," said Lehmann said. "We're grateful for Bank of America's contribution, which will help us continue our mission."
Across Onondaga County, homelessness has been on the rise due to job losses in the service industry. Bank of America's support of Housecalls for the Homeless is part of a larger commitment to helping communities thrive and ensure economic resiliency.
"Bank of America is committed to supporting the economic resiliency of our communities to ensure basic needs are met, especially for those who have been impacted by the current health crisis," said Michael Brunner, Syracuse / Utica market president for Bank of America. "The Housecalls for the Homeless street medicine program is integral because it aims to keep one of Syracuse's most vulnerable populations healthy during the coronavirus. We're grateful that Dr. Lehmann and his staff are working tirelessly to treat patients, and to stop the spread of the coronavirus in shelters and on our streets in Onondaga County."
To learn more about Housecalls for the Homeless, go to www.upstatefoundation.org/Housecalls.