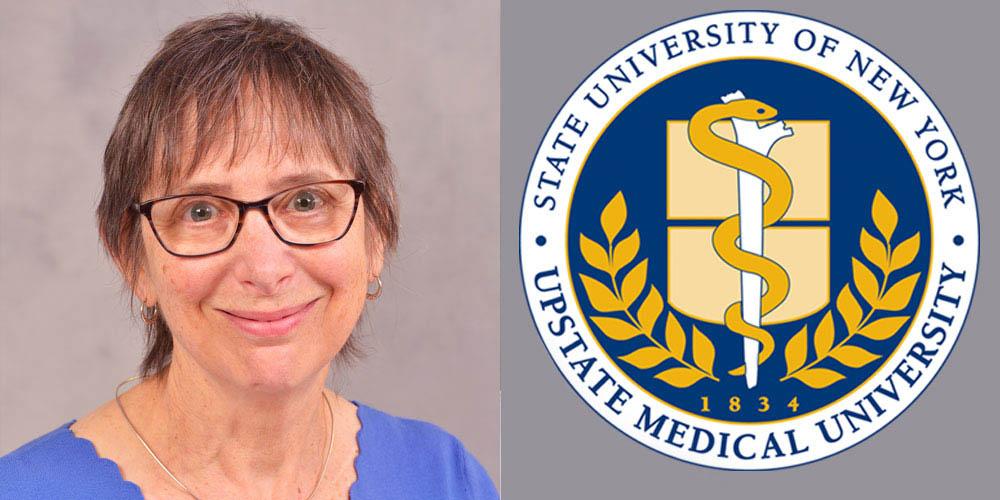 Ruth Weinstock, MD, PhD, elected to one of four key national principal officer posts at American Diabetes Association
SUNY Distinguished Service Professor Ruth S. Weinstock, MD, PhD, one of the nation's leading physician-scientists in the area of diabetes, who serves as division chief of Endocrinology, Diabetes and Metabolism at SUNY Upstate Medical University, has been elected President of Medicine and Science for the American Diabetes Association (ADA).
Weinstock assumes the post as President-elect effective immediately and begins a full term as President January 2021. The post of President of Medicine and Science is one of four elected principal officer of the ADA. Weinstock is only the fifth woman to hold this post the ADA's 80-year history. She succeeds Robert Eckel, M.D, in the post.
"I'm so excited that Dr. Ruth Weinstock will be assuming the role of President of Medicine and Science for the American Diabetes Association," Eckel said. "This is such an important opportunity for an outstanding physician scientist like her to build on the never-ending task of bringing the latest discoveries in diabetes-related medicine and science to improve the lives of patients living with diabetes.  I wish her well in this very special opportunity."
With an extensive publication history, Weinstock, who also serves as medical director of the Clinical Research Unit and medical director of the Joslin Diabetes Center at Upstate, has assumed essential roles in several national collaborative research projects, including Treatment Options for Type 2 Diabetes in Adolescents and Youth (TODAY), and the Informatics for Diabetes Education and Telemedicine (IDEATel) Demonstration Project. With the Type 1 Diabetes (T1D) Exchange clinical network, she has conducted many projects including studies on the use of continuous glucose monitoring. She has trained and mentored hundreds of students, residents and fellows, inspiring many to pursue diabetes research and practice in their careers.
Her research over the past >25 years has focused on the study of new approaches for the prevention and management of diabetes mellitus and its complications, including efforts to expand access to diabetes care to underserved populations using telemedicine.
She has been an investigator in over 100 clinical research projects. She has served on grant review panels for the National Institutes of Health (NIDDK), on the National Board of Directors and numerous committees of the American Diabetes Association, as Associate Editor of Diabetes Care and Section Editor for Endocrinology for the Mayo Clinic Proceedings, on the editorial board of Endocrinology, on national committees for the Department of Veterans Affairs, as well as on other national, regional and local committees and task forces related to diabetes research and improving diabetes care. Locally, she serves on the Board of Directors of the JDRF (Juvenile Diabetes Research Foundation).
Weinstock has received numerous honors and accolades for her work, including the 2018-2019 Samuel Eichold II Memorial Award for Contributions in Diabetes from the American College of Physicians, SUNY Research Foundation Award Honoring Research in Science, Engineering and Medicine, the SUNY Chancellor's Award for Excellence in Scholarship and Creative Activities, and in 2017 the American Diabetes Association Outstanding Physician‐Clinician Award.
Weinstock is a Fellow of the American College of Physicians and the American College of Endocrinology.