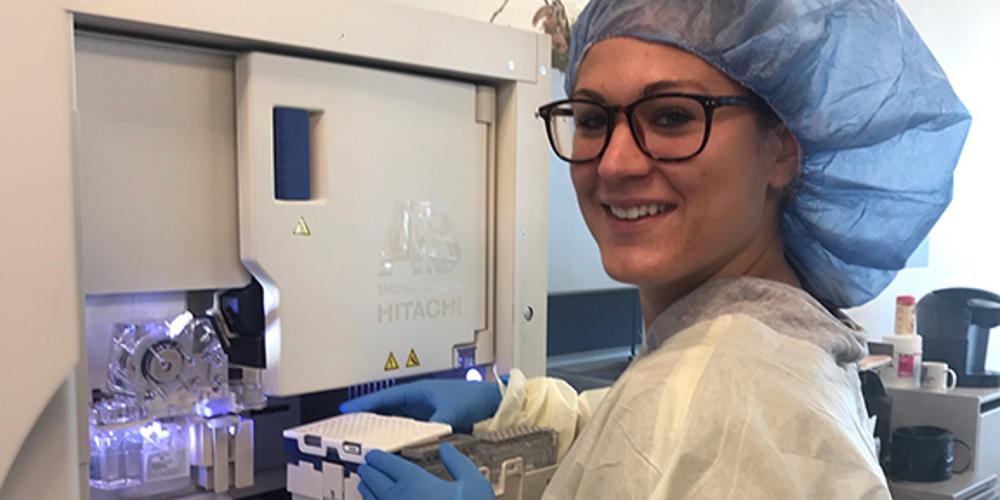 Pandemic heightens critical need for medical technologists; Upstate grad shares why she loves her job on the front lines
Kristyn Zaremba was studying nursing when she made an important discovery – she wasn't comfortable with the level of patient contact she would have in her future career. But the Watertown native knew she wanted to remain in the medical field so she sought advice on a different but similar career option.   
She discovered the Medical Technology program at Upstate Medical University and two years after graduating, Zaremba is in a job she loves doing work on the front lines of the COVID-19 pandemic.
"Someone told me about the med tech program and said you'd be really great at this," Zaremba said. "I didn't know it was a thing. The more I learned about it the more I just knew it would be a good fit. It's exactly what I wanted to do since you're still helping patients, you're just doing it behind the scenes."
Zaremba graduated with a bachelor of science degree in Medical Technology from Upstate's College of Health Professions in 2018. And for the last two years she has worked in Upstate's molecular lab in pathology at the Central New York Biotech Accelerator on East Fayette Street in Syracuse. Her daily work involves testing samples – fluids, tissue, bone marrow and more – for things such as cancer, genetic disorders and disease. Starting this spring, the lab in which she works with seven others, was deeply involved in Upstate's testing for COVID-19.
"It was hectic working with COVID-19," she said. "And at first it was really exciting. You're finally getting recognized – not just you as a person – but your field. You know that what you're doing is affecting people in a good way." 
Sue Graham is the department chair of clinical laboratory science and associate dean of the College of Health Professions at Upstate. She said the pandemic has only heightened the critical need for people to enter the field of medical technology.  
The lack of people entering the field "has been a crisis for 15 to 20 years," Graham said. "Many people don't know we exist because we're behind the scenes of the healthcare profession. A lot of people don't think about where those lab tests are performed."
According to an April 2020 report from the Center for Health Workforce Studies, there is an annual average of 910 openings for medical and clinical laboratory technologists in New York state. Job growth in that field is expected to grow more than 15 percent between 2016 and 2026. Upstate's program works well with students from a variety of backgrounds including those with a two-year degree in medical laboratory science, the required prerequisites or even those with a bachelor's degree, Graham said. 
"We're only graduating about a third of the people we need across the state," Graham said. "And the pandemic has really highlighted the shortage."
The average median wage for a medical technologist one year after graduation is $51,275 according to the SUNY Gradwages Dashboard. That number jumps to $66,121 ten years after graduation. Graham said she's had recent graduates land jobs that pay $70,000 because they were in more rural areas. Recent job offers have also included sign-on bonuses and tuition reimbursement, she said.
"This is a great career for folks who are looking for flexibility in their professional life," Graham said, noting that lab tests are conducted in a hospital 24 hours a day so second and third shifts are often available. The Upstate program consists of five semesters over two years and 80 percent of the student's last two semesters is spent in clinical lab rotations. Upstate places students in clinical rotation sites across the state, which Graham said double as "mini job interviews," with most students getting a job offer prior to graduation.
"It's not unusual for students to walk away with a job offer from every clinical experience that they have," she said. 
Graduating from the Upstate program makes them eligible for New York state licensure and eligible for national certification from the American Society for Clinical Pathology. Upstate trains students as generalists, meaning they can work in any area of the laboratory. That puts them in a good position to pursue a wide variety of career options, Graham said.
Zaremba, who is 27 and has a four-year-old son, said her job at Upstate has worked great for her and her family; she works a day shift and has benefits including paid vacation and health insurance. She said she is grateful to have found a challenging career that she enjoys and is contributing to the health of her community, especially during the pandemic.
"This field isn't just for people who want to be in the lab," she said. "It's not just bench work and that's so important. There's such a broad range of what you're able to do and you're never going to be lacking a job."
Caption: Upstate Medical University graduate Kristyn Zaremba works in her laboratory.