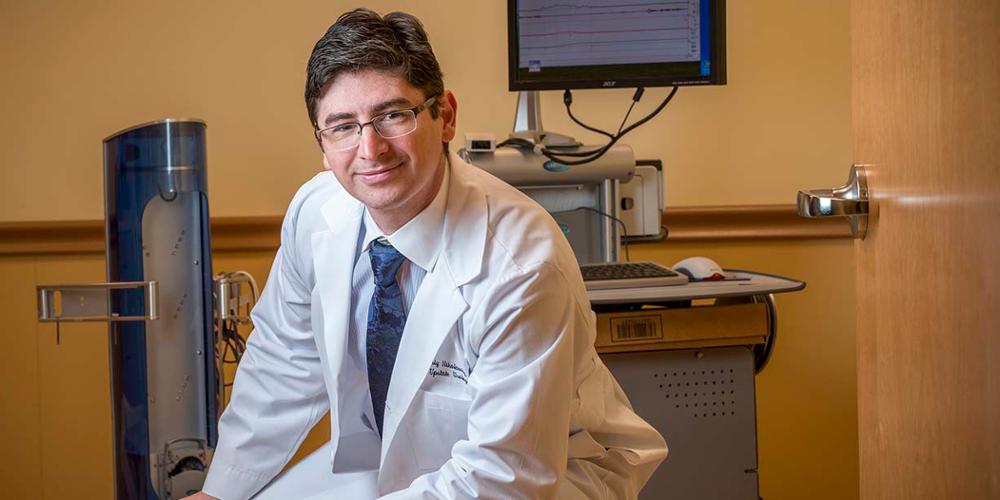 New fellowship in reconstructive urology to begin at Upstate next year
Upstate Medical University has been approved for its first fellowship in reconstructive urology, which is set to begin in 2021.
The fellow will work alongside Upstate surgeons and physicians in the Department of Urology seeing patients, performing surgery and conducting research. Dmitriy Nikolavsky, MD, is director of reconstructive urology at Upstate and was instrumental in establishing the fellowship.
Nikolavsky performs reconstructive urology to repair complications from radiation, trauma and surgery. He is also one of just a handful of surgeons in New York state to specialize in transgender surgery and reconstruction for men and women. He also works with patients with spinal cord injuries.
After about a one-year application process, Upstate's new fellowship was approved last month  by the Society of Genitourinary Reconstructive Surgeons. There are few GURS verified fellowships around the world; the GURS website lists just 17 for 2018-2019 with the majority in the United States.
"We have a very strong team of six reconstructive urologists," Nikolavsky said. "It was a huge honor that once we applied to GURS we were approved and now we will have a fellow who will come and learn from us."
The one-year fellowship position will be filled by a urologist who has completed his or her residency but is looking for additional specialty training. Fellowships allow for reciprocal learning – the fellow will learn from Upstate experts and Upstate doctors will learn from the fellow, said Stephen Blakely, MD, who worked with Nikolavsky to establish the fellowship.
"The person who comes each year is going to offer a novel perspective based on their urological training and they will be able to pass that along to our residents, our medical students and our faculty as well," Blakely said. "This trainee is ultimately going to be an attending urologist somewhere and is going to spread the Upstate name wherever they go. That visibility is important for our institution.
"Beyond that, they are going to provide a service to our community for a year. They are going to allow us to do things that we wouldn't be able to do without another urologist on staff and they are going to improve our department and how we deliver care to the community."
Nikolavsky is excited to be able to train more urologists on reconstructive procedures including the growing field of transgender care.
"The fellow will do very complex things. Now we can provide the next level of education for the super specialists," he said. "Together with a fellow we can do so much more for the community. And the fact that we have a fellowship is a huge recognition that there is know-how here."
Upstate's Department of Urology is one of the largest and most comprehensive in the country. Its physicians continue to lead the way in many areas, said Department Chair Gennady Bratslavsky, MD.
"This fellowship is not only a recognition of the phenomenal surgical skills and repertoire of our world-class reconstructive team but it is also a statement of our department's and our institution's commitment to diversity and caring for the LGBTQ community," Bratslavsky said. "This fellowship is an opportunity for an exchange of knowledge and surgical skills and many young surgeons have already expressed interest from all corners of the U.S. and the world." 
Caption: Dmitriy Nikolavsky, MD, (above) is director of reconstructive urology at Upstate and was instrumental in establishing the fellowship.