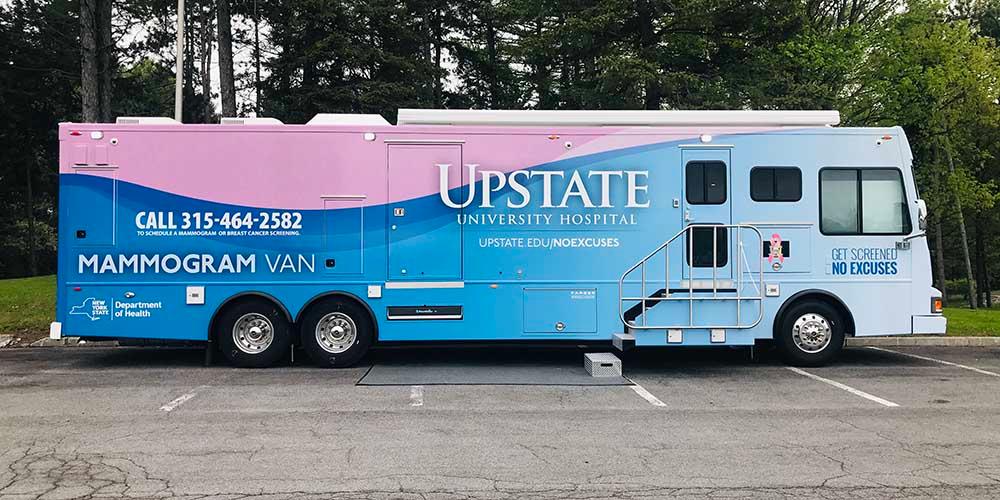 Upstate's Mammography Van crisscrosses CNY this fall
The Upstate Mobile Mammography Program has been traveling throughout Central New York during Breast Cancer Awareness Month with screening events to help women get up to date with their mammograms. The COVID-19 pandemic caused many women to put off routine medical care, including breast cancer screening. The van, funded by Health Research Inc and the State of New York, is a service of Upstate University Hospital.
"The recommendation from multiple medical organizations to postpone any non-essential care during the height of the pandemic made perfect sense for limiting exposure to COVID-19. Now that the infection rate in New York State is low, and our mobile mammography van is taking safety measures to keep patients safe, we need to get women back in for their mammograms. Getting a mammogram regularly is the best way to find breast cancer early, when it may be easiest to treat," said Ranjna Sharma, MD, division chief of breast surgery at Upstate.
The Upstate Mobile Mammography Program is holding the following events:
Oct. 26 at the Town of Lafayette Offices
Oct. 27 at Clayville Library
Oct. 28 at Walmart in Potsdam
Oct. 29 at Castorland Fire Department
Oct. 30 at CNY Uniforms Plus in Syracuse
Stops in November include:
Nov. 3: Clinton Tractor & Implement Co., 31 Meadow St., Clinton.
Nov. 5, 6: St Lawrence University, 23 Romoda Dr., Canton.
Nov. 9: Town of Russia, 8916 N. Main St., Poland.
Nov. 12: Baldwinsville YMCA, 8040 River Road, Baldwinsville.
Nov. 13: Kinney Drugs, 822 James St., Clayton
Nov. 16:  Marcellus Library, 32 Maple St., Marcellus.
Nov. 19: PEACE Inc. County East Family Resource Center, 722 W. Manlius St., East Syracuse.
Nov. 20: Kinney Drugs, 7395 Utica Blvd, Lowville.
Nov. 23: Kinney Drugs, 540 Genesee Turnpike, Chittenango.
Nov. 24: Town of Volney, 1445 County Rt.6, Fulton.
The Upstate Mammogram Van serves women age 40 years and older, with or without insurance. A mobile mammography van is a great option for women who prefer to get a mammogram in a location other than a hospital or breast screening center. The van has the same state-of-the-art screening technology found in a clinic setting and images are read by licensed radiologists. The van has a reception area, a changing area, and an imaging room.
"Transportation, lack of insurance and cost are major barriers to breast cancer screening. Upstate's Mammogram Van addresses these problems by partnering with local establishments that are centrally located and easy to get to. Our van also works with programs that can help women without insurance, who meet the age and income eligibility criteria, to get screened at no cost," Sharma said.
Breast cancer is the most commonly diagnosed cancer and the second leading cause of cancer deaths among women in New York State.  Each year, nearly 16,000 women in NYS are newly diagnosed with breast cancer and about 2,500 die from the disease.
Call 315-464-2582, or visit us at www.upstate.edu/noexcuses for more information or to request an appointment.