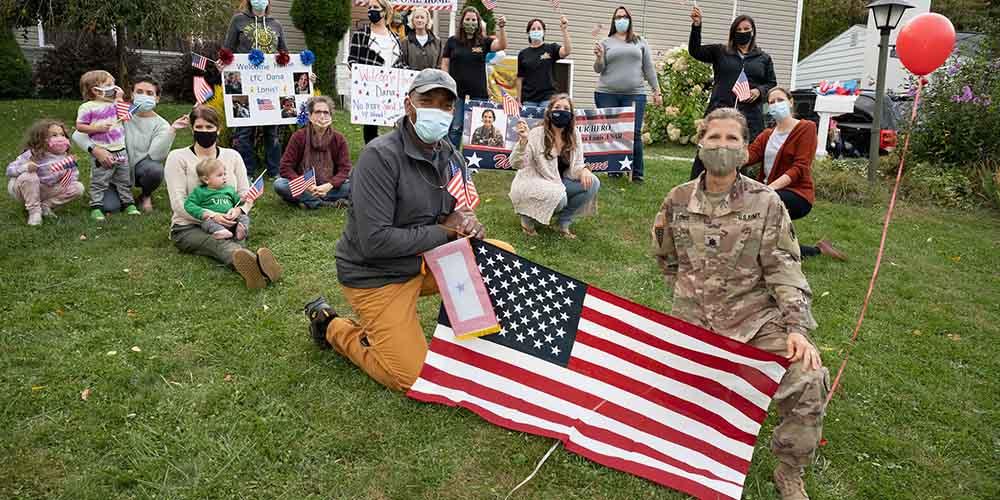 Deployed overseas for the past 10 months, Upstate nurse Lt. Col. Dana Lonis gets a hero's welcome home
It was a hero's welcome for Lt. Col. Dana Lonis, who also happens to be a SWAT nurse at Upstate University Hospital.
Dozens of friends and family members, even a fire truck, showed up at Lonis's Dewitt residence Sept. 30 to welcome her home after serving for 10 months in Kuwait, where she was deployed with the 411th Hospital Center to Camp Arifjan. 
In Kuwait, Lonis worked in the Emergency Medical Treatment section of the United States military hospital for 10 months as a nurse practitioner and the Officer in Charge.
"Words cannot describe how much it meant to my family having such an outpouring of friends and colleagues recognize my homecoming," Lonis said. "In my opinion, deployment is hardest on those you leave behind, even more so when a pandemic hits while you're away. I worried this would keep me from having a big homecoming with my children."
But Lonis need not worry, especially with friends like Kristin Soper, an Upstate oncology nurse who made sure a homecoming would greet Lonis upon her return.
"Dana is one of the most incredible people I've ever met," Soper said. "She is completely nonjudgmental, so very kind, and would literally give you the shirt off of her back. She is helpful in all situations, whether personal or professional. She looks for ways to help people and then expects nothing in return—so there was no question that Dana would not get a homecoming celebration."
Lonis has been with Upstate since 2000, in a variety of roles and departments, including the Neurosurgical Intensive Care Unit. As a SWAT nurse, Lonis is a member of a team of highly skilled nurses who provide life-saving measures and are first on the scene when a patient's condition suddenly deteriorates.
"Upstate is dear to my heart," Lonis said. "It holds some of my closest friends, many of whom were in the homecoming parade. My management team, Ellen Anderson and Chrissy Martino, have always supported my military career, whether I am unexpectedly deployed or get called away for training exercises through the year."
Of her homecoming, Lonis said: Having my Upstate colleagues cheer me on in front of my spouse and children meant so much to us all—it is a memory we will never forget."
Caption: Lt. Col. Dana Lonis, right, also a SWAT nurse at Upstate University Hospital returned after a ten-month deployment in Kuwait to a hero's welcome from friends and family. Upstate coworker Sherod Harris is at left.