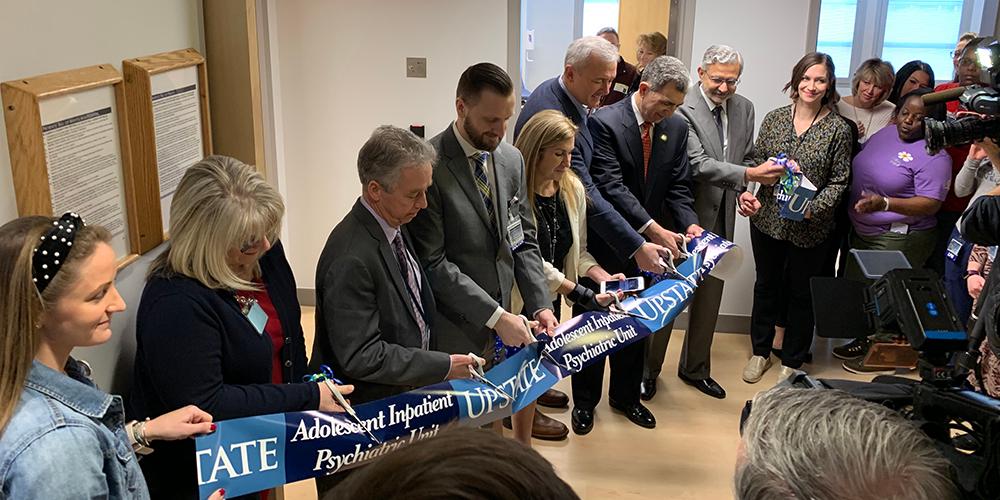 Upstate University Hospital prepares to open eight-bed inpatient psychiatric unit for adolescents
Upstate University Hospital is preparing to open its first inpatient unit dedicated to adolescents requiring acute psychiatric care. The eight-bed unit will be staffed with child and adolescent psychiatrists, nurses, mental health therapists and more, and will focus on the treatment of children 12 to 17 years of age. The average length of stay is expected to last five to seven days.
"The unit is a small step in addressing a critical need here in Central New York for mental health services for our youth," said Upstate Interim President Mantosh Dewan, MD. "Our commitment to this pressing need does not end with this unit's opening. Upstate will continue to be part of the community discussion moving this important issue forward with great urgency."
Upstate University Hospital Chief Executive Officer Robert Corona, DO, MBA, said the unit underscores Upstate's commitment to caring for children and their families, which is a key focus of the clinical mission. "This unit provides us with the optimal setting for our mutli-disciplinary care teams to meet the needs of young people and their families," he said. "I am grateful to all those here at Upstate and in the community who have made this unit's opening a reality."
The Adolescent Psychiatry Inpatient Unit, designed for acute admission and stabilization, will use Dialectal Behavioral Therapy (DBT) as the key component of treatment. "DBT can treat patients with suicidal and self-destructive behaviors, aggression and psychiatric disorders such as depression, anxiety and post-traumatic stress disorder," says Wanda Fremont, MD, professor of psychiatry and vice chair of child psychiatry at Upstate Medical University.
Twenty percent of children in the United States suffer from mental health problems and the suicide rate among people ages 10 to 24 increased by 56 percent between 2006 and 2017, according to Fremont. "Suicide is now the second leading cause of adolescent death. Research shows that DBT helps patients cope with distressing emotions leading to changes in unhealthy behaviors, lower rates of readmission and reduced suicide attempts," said Fremont.
Christopher Lucas, MD, MPH, vice chair of Hospital Psychiatry Services and medical director of the Adult Psychiatric Clinic at Upstate University Hospital, says there is evidence that the burden of mental illness in youth has significantly increased over the past decade, yet 70 percent of counties in the U.S. do not have a child psychiatrist. "Poor access to child and adolescent psychiatrists has long been a concern raised by pediatricians, families, and other key stakeholders. Only about 20 percent of children with mental, emotional, or behavioral disorders receive care from a specialized mental health care provider, let alone by a child and adolescent psychiatrist," says Lucas.
The incidence of children in Syracuse and the greater Central New York area in need of mental health services are on par with national numbers, says Joseph Biedrzycki, DO, board certified child and adolescent psychiatrist and medical director of the new unit. "While we celebrate the opening of this new Adolescent Psychiatry Inpatient Unit, we know this is only one small step in attempting to manage a problem so large in size and scope. The mental health crisis in our adolescent population is larger than one eight-bed unit, and we need everyone's help to advance our community's response to this great need," said Biedrzycki.
An increase in the number of inpatient adolescent psychiatric beds in Central New York was one of 17 recommendations included in the Final Report of the Youth Mental Health Task Force, created in April 2015, by U.S. Rep. John Katko and New York Assemblyman William Magnarelli.
U.S. Rep. John Katko (NY-24) said, "I am proud to join Dr. Mantosh Dewan, Assemblyman Magnarelli, and the medical professionals at SUNY Upstate Medical University for the opening of the Adolescent Psychiatry Unit. When I first came to Congress, I saw the dire need to improve access to pediatric mental healthcare in our community. That's why, together with Assemblyman Magnarelli, I formed a bipartisan Mental Health Task Force to address the gaps in pediatric mental healthcare. This group developed a series of recommendations to enhance care in Central New York, and highlighted the need for a greater number of beds to provide care for children. Upstate acted on this recommendation and I am proud to be a part of the opening of the Adolescent Psychiatry Unit. I applaud the continued efforts of SUNY Upstate to ensure access to quality mental healthcare in Central New York."
Assemblyman Bill Magnarelli, NYS Assembly-129th District, said: "I congratulate SUNY Upstate on the opening of its new Adolescent Psychiatry Unit. There is a critical need for youth mental health services in Central New York as identified by the CNY Youth Mental Health Taskforce. This new unit will provide valuable in-patient beds for families in crisis. These new beds will mean families will not have to send their children hours away to get appropriate treatment. This is an important first step in improving the availability of mental health care for children in Central NY." 
Special features of the 7,580 sq. ft. unit include a comfort room where patients will have an opportunity to deescalate and reduce agitation and anxiety with items like weighted blankets, comfortable chairs, music, muted lighting, and quiet activities. The activity room will focus on individual and group activities dedicated to art therapy and music. The unit will have a dedicated art and recreation therapist, and two occupational therapists.
Whenever possible families will be included in the treatment plan for patients, with unlimited visitation during visiting hours, as family involvement is an expectation of this unit and program. Patients will have their own rooms and the unit will be locked for safety, a standard protocol for similar inpatient settings.
Patients will be discharged to outpatient child and adolescent mental health resources in the community, including mental health clinics and private mental health clinicians.
The total cost to build the unit is $3.8 million, partially funded by capital dollars from Upstate, in addition to support from the Advocates for Upstate and the Upstate Foundation. The successes of events, such as the Advocates' Mystery Malt and Merlot, the Upstate Foundation Gala and the Foundation's annual golf tournament are a direct result of the generosity of the Central New York community.