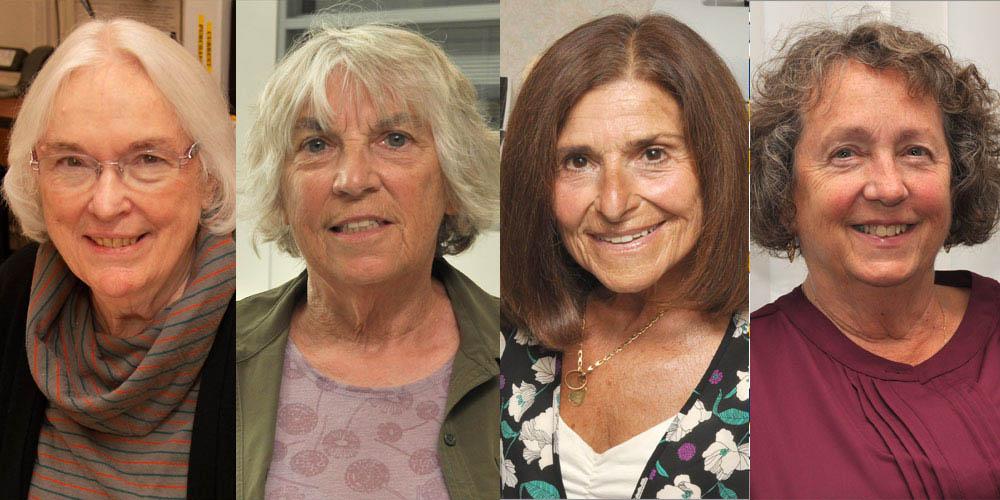 Four employees celebrate a half century of service to Upstate
(This year Employee Recognition Day goes virtual as Upstate Medical University salutes more than 1,200 employees celebrating five-year milestones of service on a special website: www.upstate.edu/erd. Check the list for the names of your colleagues and leave a message of congratulations or reflection.)
In 1970, a first-class stamp cost 6 cents, a gallon of gas was 36 cents and the average new home cost less than $27,000. It was a different time, to say the least. The same was true for those working at Upstate University Hospital and what was then Community General Hospital, which became part of Upstate in 2011.
There were no robots assisting in the operating room or computers to keep track of patient records. There were no flat-screen televisions on the walls or digitized medical equipment. Operationally, the hospital relied on hand-written notes and orders, which eventually made their way to a typewriter.
At least four Upstate Medical University employees remember those days fondly as 1970 was the year they were hired. Five decades later, they remain at Upstate as some of the longest-tenured employees on campus. The four—Charlene "Char" Hubbell, Chris Lighthipe, Kathy Messina and Jeanne Nolan—are honored this year for 50 years of service at Upstate. Their experiences, responsibilities and job titles differ but a common thread runs through all of their stories – they enjoy their work and treasure their Upstate colleagues.
Charlene "Char" Hubbell, manager of the HLA and stem cell laboratories in the department of pathology
When Charlene "Char" Hubbell filed for her Social Security benefits three years ago, the customer service representative politely pointed out what he thought was a mistake on her application. "He said you must not have realized that you need to list all of your employers," Hubbell said laughing. "I explained that I've only ever had one employer. The voice on the other end said, 'Wow, that's amazing! You don't see that much anymore!' "
Hubbell graduated from the College of Health Professions in 1969 and started working at Upstate shortly after. She's been in the same position since 1971. "I still enjoy this job and if I were younger I'd probably keep doing it."
Hubbell said she will most likely retire by the end of the year. She's looking forward to sleeping an extra hour every day and tending to her garden. "Working here has very much defined my life," she said.
Chris Lighthipe, occupational therapist, Physical Medicine and Rehabilitation
When Chris Lighthipe was looking for her first professional job as an occupational therapist she applied to positions throughout New York state and New England. The opportunities for growth and development brought her to Upstate – and 50 years later she remains.
"What's kept me here are the variety of medical professionals, therapists and patients that provide me with daily inspiration for learning and development," she said. For the last several years, Lighthipe has worked two days a week for the Department of Physical Medicine and Rehabilitation at the Institute for Human Performance with a focus on seating, positioning and mobility for Upstate's Wheelchair Clinic. She has worked with patients of all ages with a focus on rehabilitation of pediatric and adult neurology and she teaches an adaptive intervention college class for occupational therapy assistants.
In her spare time, Lighthipe enjoys gardening, skiing, hiking, riding her horse and her bike. She's riding 300 miles in the month of September to raise money for pediatric cancer research. She's grateful to have time to ride and to be able to keep working with patients who make the work interesting and fulfilling. 
"The time has gone quickly but I've enjoyed the challenges," she said. "Each new day is an adventure."
Kathy Messina, administrative assistant in pediatric pulmonary and infectious disease, Upstate pediatrics
Kathy Messina has no problem explaining what's kept her at Upstate for 50 years – pediatricians and their little patients. 
"I love kids," she said. Her dream is to "open a daycare and a nursing home in one building. Little people and old people are the same. If you put them together they get along fantastic."
Having always worked in some capacity of pediatrics at Upstate, Messina said she has always valued her relationships with the doctors.
Pediatricians "explain everything until you understand it and they're not in a hurry," she said. "I've met some of the kindest people I've ever known here."
When she does retire – she has no official plans – she'll spend more time riding her personal watercraft on Oneida Lake.
"When my chair breaks I'll retire," she said laughing. "I've had this chair for 30 years. It's my favorite chair and I won't give it up. When the chair breaks I go."
Jeanne Nolan, administrative assistant at Joslin Diabetes Center
Jeanne Nolan began her hospital career at age 19. She started out as a unit secretary and worked nights for 11 years when her kids were small. When her kids were older, she went back to school – attending classes part-time at Onondaga Community College for about three years. She earned an associate's degree in information systems when she was 50 years old.
She worked for Community General Hospital for 41 years before Upstate acquired that hospital in 2011. She plans to retire next year.
Her secret to having the same employer for 50 years? "I've just always tried to learn new things and stay on top of all the changes," she said. And for the most part, technology has made her job easier. The medical advancements she's witnessed continue to astound her.
"It used to be that if you had your gallbladder out you were in the hospital for 10 days. Now you're in for less than 24 hours," she said. "It's amazing."
In retirement, Nolan wants to travel cross-country with some friends and spend more time with her four grandchildren. "There's so much here in the United States. I don't even need to leave the country."
Caption: From left, Charlene Hubbell, Chris Lighthipe, Kathy Messina and Jeanne Nolan, are recognized this year for 50 years of service to Upstate.