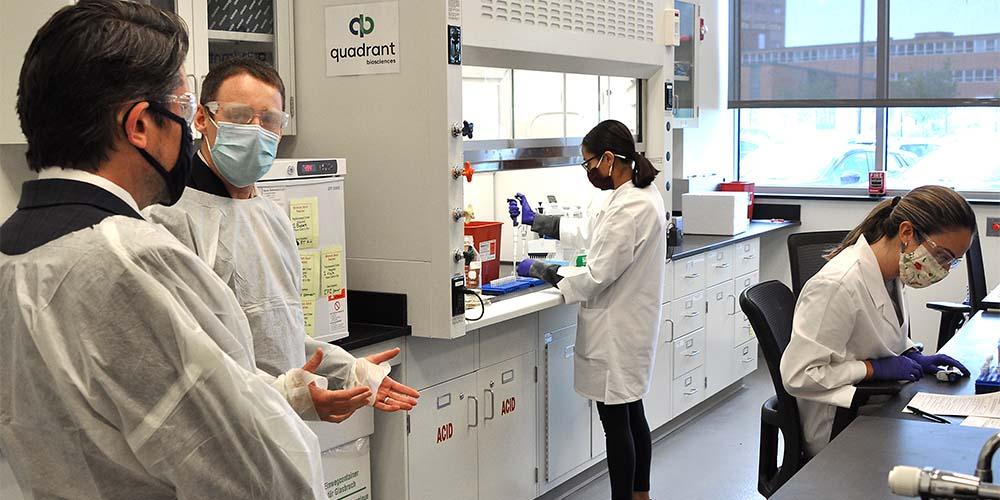 Chancellor Malatras announces five additional COVID-19 testing machines for Upstate Medical University to increase SUNY testing capacity to more than 120,000 tests weekly
SUNY Chancellor Jim Malatras today announced that SUNY has secured five additional COVID-19 testing machines from Bio-Rad Laboratories allowing Upstate Medical University to enhance coronavirus testing capacity and frequency across SUNY's 64 colleges and universities. The testing machines—which were purchased for a total of $100,000 by SUNY System Administration—will allow SUNY to process up to 15,000 additional pooled saliva or individual saliva tests per week, bringing SUNY's overall weekly testing capacity to more than 120,000. One of the five machines will also allow Upstate Medical to conduct more wastewater testing for COVID-19.

"Thank you to Governor Cuomo and his team for their quick action to expedite these much-needed machines to test for COVID-19 and to Bio-Rad Laboratories for their continued partnership with New York State throughout this crisis," said Chancellor Malatras. "We are determined to arm Upstate Medical with the tools they need to maximize the game-changing testing program invented inside their labs. As the largest public system of higher education in the country, we have a tremendous responsibility to keep students, faculty, and staff safe across 64 campuses, and ongoing, aggressive testing is one of our strategies for doing so. The purchase of five additional testing machines to ramp up testing capacity and frequency is further proof that we are not resting on our laurels, and that we will continue to improve our virus prevention, response, and containment efforts. I must once again commend Dr. Mantosh Dewan and his team. Thanks to their innovation, our college leaders are getting a regular, accurate reading of the presence of the virus on their campus-vital information for preventing outbreaks and keeping our campuses open."

Upstate Medical University Interim President Mantosh J. Dewan said, "SUNY Upstate Medical University is grateful for the support of Governor Cuomo, Chancellor Malatras, and the entire SUNY system in providing us with the resources needed to strengthen and enhance our work in caring for our campuses and the greater community during this pandemic. These machines, which have been difficult to obtain, are an essential part of the process in finding the presence of COVID-19 and will enable us to greatly enhance our capacity for testing."

In partnership with Bio-Rad Laboratories, Upstate Medical received four additional CFX96 Touch Real-Time PCR Detection System Modular thermal cycler platforms and one additional CFX384 Touch Real-Time PCR Detection System Modular thermal cycler platform to handle additional pooled surveillance, individual saliva, and wastewater testing.

Onondaga County Executive Ryan McMahon said, "Thanks to the addition of five more COVID-19 testing machines, New York State is prepared better than ever to identify and respond to any potential outbreaks on SUNY campuses. Just as important, these additional machines will also help to rapidly identify any potential community spread that could come from an outbreak. Onondaga County and Central New York have consistently maintained an infection rate below one percent, even while bringing back tens of thousands of college students. I am confident that as we continue our fight with COVID-19, we will do so in safe, healthy, and responsible way. Congratulations to the entire SUNY team for their efforts to help keep our communities safe."

Malatras visited Upstate Sept. 9 to check-in with Dewan and discuss the additional testing capacity. His stop in Syracuse was preceded by a visit to SUNY Oswego, where he met with President Deborah Stanley to discuss strategies for containing COVID-19 following an uptick in cases on campus.

Recent breakthroughs in both pooled surveillance testing and saliva diagnostic testing at Upstate Medical have exponentially increased coronavirus testing capacity for the entire SUNY system.

The pooled testing allows for between 10 and 25 people to be screened in one test. The testing can be done using saliva swabs rather than by swabs inserted in a person's nose. Individuals administer the tests themselves, swabbing their mouths for 10 or 15 seconds each, and provide the saliva samples to staff to be sent to Upstate Medical. Their samples are combined into one, which is tested for SARS-CoV-2 virus. A negative test means that all 10-25 people are presumed at the time to be coronavirus-free.

When a pool test comes back positive, the same saliva samples submitted for a pool can now be immediately tested individually. People within that pool do not need to come back in and submit a second sample. This greatly improves testing capacity and results in turnaround time, which is crucial to tracking and isolating the virus.

Wastewater testing underway at Upstate's Start-Up NY partner Quadrant Biosciences's lab in the Central New York Biotech Accelerator, provides municipalities, colleges and universities with an early warning system to detect the presence of SARS-CoV-2 in wastewater. If traces of the virus are found in the wastewater from a residence hall, for example, officials can begin to test students who reside there to take steps to halt the spread.
Caption: SUNY Chancellor Jim Malatras, left, tours a Quadrant Biosciences's wastewater testing lab in the Central New York Biotech Accelerator, with Quadrant Biosciences Chief Operating Officer Bryan Greene.