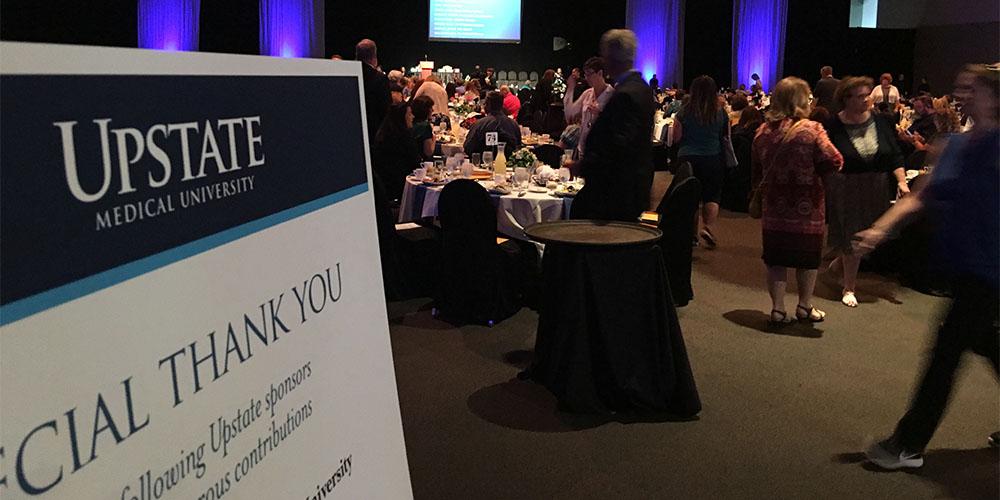 Employee Recognition Day will salute honorees online
Like many other events during this pandemic, Upstate's annual Employee Recognition Day (ERD), that was set for Sept. 10, will be virtual, in a way.
To ensure everyone's safety, large gatherings such as ERD cannot occur this year. The gathering usually attracts more than 600 employees for a luncheon celebration at the Oncenter. This year the recognition of more than 1,200 employees celebrating five-year milestones of service will be rolled out on a special website: www.upstate.edu/erd, which goes live Sept. 10.
"We're certainly disappointed that we cannot gather in person for this special event," said Gwynne Conway, co-chair of the ERD committee, with Sharon Adkins. "However, we want to ensure that we celebrate the outstanding work of our employees and recognize them for their dedication to Upstate, and we'll do that online this year."
Conway says plans are already underway, healthier times permitting, to have this year's ERD honorees gather in a grand celebration with the 2021 honorees. "Our fingers are crossed that we can gather together next summer," Conway said. 
The special ERD website contains messages from Interim President Mantosh Dewan, MD, and CEO Robert Corona, DO, MBA. There's also a special area where employees can offer their reflections of their longtime service to Upstate and pass along a celebratory message to a coworker who's being honored.
Among those being honored are four employees who have given more than half a century of service to Upstate: Charlene Hubbell, Clinical Pathology-Histocompatability; Christine Lighthipe, Physical Medicine and Rehabilitation-Rehab Therapies; Kathleen Messina, Pediatric Surgery Clinic; Jeanne Nolan, Joslin Diabetes Center.
In his ERD message, Dewan thanked those being recognized for their efforts in combatting the pandemic.
Our great response to this pandemic did not happen overnight," he said. "The foundation of expertise has been built over the years, by welcoming people like yourself to the Upstate family. Someone recognized your greatness, your skill, your humility and Upstate is a better place because you joined us."
Corona also offered thanks for employees' dedicated service during the pandemic.
"No matter your job title, we are all doing our part to keep our community, our campus, our families and each other safe. Thank you for that. You have represented Upstate proudly in our community and brought us renewed recognition and underscored the importance of our institution, to our community, to SUNY, to the higher education community to our state and beyond."
Caption: A past Employee Recognition Day celebration featured a ceremony at the Oncenter. Plans are to be employees recognized this year and in 2021 together for a grand celebration next summer.