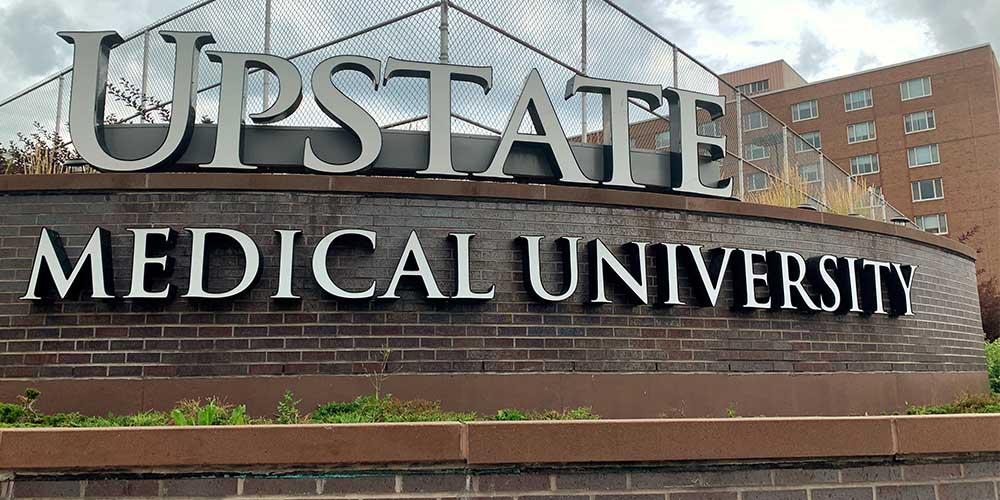 Upstate begins COVID-19 antibody clinical trial
Upstate Medical University has launched a new clinical trial of an antibody that could be used in the fight against COVID-19. The Institute for Global Health and Translational Science is seeking healthy individuals to participate in this clinical trial to assess how the body reacts to an antibody created by SAB Biotherapeutics. Upstate is one of two sites nationwide testing the antibody.
The phase-one study is seeking healthy adults 18 to 60 years old who have not participated in another clinical trial within 30 days of enrollment and have no history of COVID-19. Participants must also agree to not participate in any other trials during the study period. Compensation and parking are provided and participants will not incur any expenses for participating.
Upstate dosed its first patient in the study on Monday, Aug. 10 and is actively screening participants. This is a blinded study involving a placebo, meaning some individuals will receive a placebo while others will receive the antibodies.
The study involves two initial screening visits followed by eight outpatient clinic visits over 90 days. Participants will receive an infusion of the antibody during the first clinic visit, which will take between 60 and 90 minutes. Participants are also asked to stay at the site for a minimum of six hours after the initial infusion. Participants are required to record any symptoms for seven days after receiving the infusion.
"Our group at the Institute for Global Health and Translational Sciences is excited about the ability to help further develop a product that could potentially be used to treat or even prevent COVID-19-related disease," said Kristopher Paolino, MD, director of clinical research for the Institute for Global Health and Translational Medicine. "We will hopefully work to recruit for this study quickly as we attempt to shepherd this drug into the next phase of development."
The study is in conjunction with SAB Biotherapeutics (SAB), a clinical-stage biopharmaceutical company developing a novel immunotherapy platform to produce specifically targeted, high-potency, fully human polyclonal antibodies without the need for human serum, according to the company.
"This is a critical time in the global fight against COVID-19 and we believe that SAB-185, a fully-human polyclonal antibody, has the potential to serve as a differentiated therapeutic option. SAB-185 is supported by recently published preclinical data, that demonstrate our novel immunotherapy platform can successfully neutralize mutated strains of viruses and remain effective when other therapeutics develop resistance," said Eddie J. Sullivan, PhD, President, CEO and Co-founder of SAB Biotherapeutics.
The antibodies are produced using genetically engineered cattle to produce fully human antibodies, which, according to SAB may be safer, more potent and last longer than those in convalescent plasma.
"This approach has expedited the rapid development of this novel immunotherapy for COVID-19 deploying the same natural immune response to fight the disease as recovered patients, but with a much higher concentration of targeted antibodies," according to SAB.
Study visits will take place in the Clinical Research Unit of the Institute for Human Performance on the Upstate campus.
Individuals interested in participating in the study may call 315-464-9869 or email trials@upstate.edu for more information.