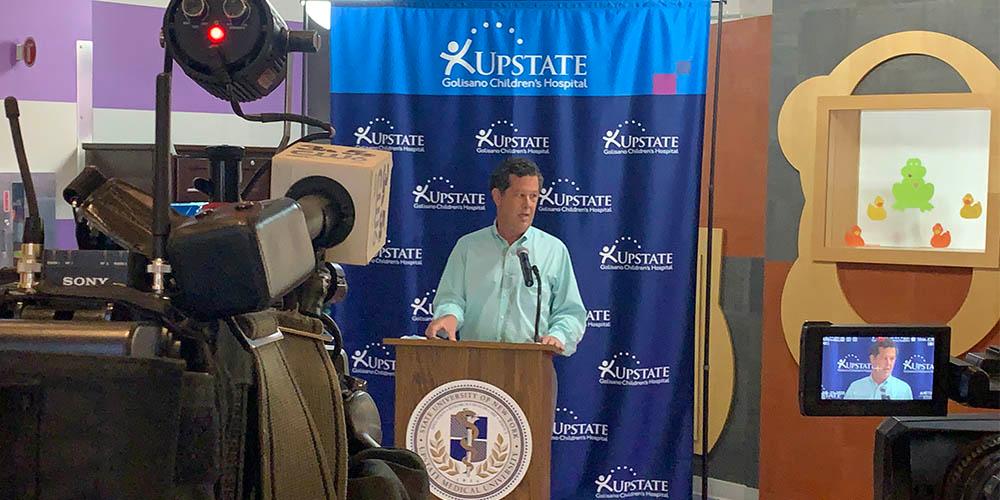 To ensure medical care for children remains robust, pediatric practices urge relief from financial hardship brought about by pandemic
Pediatricians in private practice in Upstate New York and those and practices those affiliated with Upstate Golisano Children's Hospital (Upstate Medical University) in Syracuse; the Bernard & Millie Duker Children's Hospital at Albany Med (Albany); Golisano Children's Hospital (University of Rochester Medical Center); and the John R. Oishei Children's Hospital in Buffalo (Kaleida Health, University at Buffalo), are urgently requesting additional assistance for their practices, which are hemorrhaging money due to the covid-19 pandemic.
Together, the academic medical centers and pediatric practices care for the vast majority of children in Upstate New York. Without quick relief, families may find reduced medical services for their children.
"We have done everything to protect our communities during this pandemic, but the unfortunate byproduct is that we have put our financial survival at risk," said Pediatric Society of Central New York President Steven Blatt, MD, who also serves Upstate professor of pediatrics and medical director of Upstate Pediatric and Adolescent Center. "The depth of loses at our pediatric practices are not sustainable and we fear that without any significant relief, we may be in a position that requires some practices to reduce hours, staff fewer physicians or close."
The Upstate Pediatric and Adolescent Center and Upstate Pediatrics in Baldwinsville saw outpatient visits drop between 52 to 70 percent from mid-March to mid-April. Visits to Upstate's pediatric specialty clinics were down by about 70 percent from March to April.  Unlike adult medical practices, pediatrics practices have been to slow to return to normal levels. Many are still down by 40 percent.
Officials say the drop in patient visits is due to a reluctance on the part of parents to bring their children to the doctor. Also, children have not been as sick during this time of quarantine, as they have not been in school or in contact with other children, and therefore less likely to be sick.
Vito Losito, MD, of Child Health Care Associates in East Syracuse, is worried about practices folding and reducing the number of primary care pediatricians available to see children for well visit and vaccinations
"My colleagues and I are deeply concerned and frankly full of fear due to the precipitous drop in vaccines rates overall due to the COVID pandemic," Losito said. "Parents are not bringing their children in for their well child visits out of fear of coming in contact with the novel coronavirus and they are missing out on vital, life-saving vaccines. We may soon be seeing children die from Haemophilus Influenzae type B sepsis as well as epiglottitis, along with measles, polio and pneumococcal meningitis.
"There is a very real chance that this may happen especially if primary care pediatricians, who are the backbone of this countries vaccine delivery system, cannot financially survive and have to close their offices," Losito said.
Additionally, practices have had to cope with the added expense of securing personal protective equipment and overhauling the processes for seeing patients—to keep patients safe from covid—which has limited the number of patients who can be seen each day by doctors.
The fallout has been a reduction in staff salaries, furloughs, lapsed payments to partners and a freeze on hiring new physicians and a cutback in hours. For example, Upstate Golisano Urgent Care cut its weekday hours in half. Unless, a quick remedy is found, practices may be forced to close.
Some local pediatric practices have received funding through the Paycheck Protection Program that has helped curtail some cutbacks, and staff pay reductions, but that funding has now been depleted.
One source of support that would provide relief for pediatric practices is the CARES Act Provider Relief Fund. In April, the Department of Health and Human Services distributed $30 billion to eligible health care providers, but pediatric practices locally did not receive such funding, as it mainly targeted Medicare providers. Medicare is a federal health insurance program for adults over 65 and children are not eligible.
Another round of funding earmarked for practices that participate in Medicaid/Child Health Insurance Program (CHIP) is expected to be released soon. It's unknown how much funding Central New York pediatricians would receive.
Additionally, pediatric leaders are urging health insurers to make supplemental or advance payments to their practices to stem the tide of red ink that is threatening services. Despite reduced demand for health care services during the pandemic, health insurers have continued to collect premiums.
"There is no need to find another pot of money to approve," said Scott Schurman, MD, vice chair of pediatrics at Upstate Golisano Children's Hospital. "Insurers have these funds available to aid our practices; we are asking them to partner with the Upstate community of pediatric physicians, make these payments now and keep our pediatric services strong, for the benefit of our families and children."
Schurman said he already has been in contact with the state's Division of Financial Services urging that it direct insurers to approve the advanced these payments to the practices. "I hope there is a solution and action soon, as the current situation is unsustainable and I worry about the care for kids."
Schurman said Upstate pediatricians see the community's most vulnerable children and ensuring a thriving pediatric practice will ensure that children remain healthy. "It does take a village to keep our children strong and healthy, and we need support of all to continue to make the health and well-being of our children a priority."
Caption: Pediatric Society of Central New York President Steven Blatt, MD,  who also serves as Upstate professor of pediatrics and medical director of Upstate Pediatric and Adolescent Center, speaks at a press conference July 23 about the financial challenges practices face due to the pandemic that threaten medical care for children.