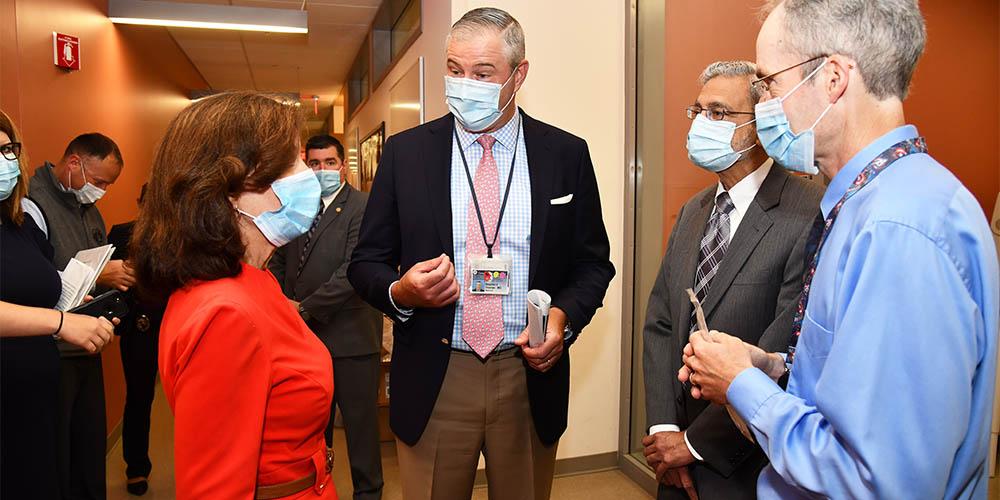 Lt. Gov. Hochul visits campus to get update on Upstate's COVID-related research; urges community to wear masks to keep infection rate low
New York Lt. Gov. Kathy Hochul, during a visit to Upstate Medical University, applauded the efforts of the university during the COVID pandemic. 
"New York state is blessed to have SUNY Upstate," Hochul said. "They have been integral partners of ours in trying to combat this pandemic. When we look back some day, and write the story of how we overcame this, we'll look at institutions like this and thank them for the critical role they played in keeping New Yorkers safe."  
Dewan thanked Hochul for her continuing support of Upstate and for the state's guidance and handling of the COVID-19 pandemic.   
"As a medical university, we have been very hard hit with COVID and the advice, guidance and oversight from the state administration has been invaluable," Dewan told Hochul. "It has been a difficult time, but the administration has been very generous and very clear about what we need to do, so that has helped us immensely."  
The spotlight during Hochul's visit to campus July 14 was squarely on research. She toured the busy lab of Professor Frank Middleton, PhD, in the Neuroscience Research Building, where work is under way in collaboration with Quadrant Biosciences scientist to develop a version of pool testing, say for returning college students, that would use saliva rather than a nasal swab. 
A group of students would swab their mouths and provide the saliva samples to health care personnel who would then combine the samples into one specimen that would then be tested for COVID-19. If the test was negative, individual students would not need to be tested. If the pool specimen tested positive, then individual student samples would be tested for COVID from those originally obtained. This testing concept has the ability to test several thousand students quickly, which is why schools, such as Syracuse University, SUNY Oswego and State College of Environmental Science and Forestry (ESF), are interested in the testing platform, which still needs FDA approval. 
Middleton also provided Hochul with information on another joint research project Upstate is doing with Syracuse University and ESF and Quadrant Biosciences to test municipal wastewater for coronavirus. Detecting the virus in wastewater would give municipalities a way to spot areas of a community with high infection rates, and begin to mobilize mitigation efforts  
Upstate's Stephen Thomas, MD, chief of infectious disease division, and Robert Corona, DO, MBA, chief executive officer of Upstate University Hospital, highlighted other examples of Upstate's response to the pandemic, including a collaboration with Microsoft to help develop an online COVID-19 screening tool, household virus tracking study that is supported by Nascentia Health and Upstate HomeCare, a COVID transitions clinic aimed at supporting COVID patients at home after they are discharged from the hospital.   
Additionally, an army of experts from the university's Information Management and Technology group, Upstate Public Health, hospital operations were in constant contact with SUNY and county and state health department officials on tracking the virus spread and assessing mitigation strategies.   
Early in the pandemic, Upstate nurses and others answered the call to support Stony Brook Hospital's surge of COVID patients as well as to lead the temporary hospital at the Javits Convention Center.  
Hochul took the opportunity to remind the public of the importance of wearing a mask. She said the state continues to make great strides in working through the pandemic by expanded testing, contact tracing, quarantining and "something as simple" as wearing a mask. "This is the reason we've been so successful in driving the infection rate down," she said.  
Hochul isn't the only state leader to visit Upstate during the pandemic. Gov. Cuomo has held two of his daily briefings at Upstate. And while he was not physically present on campus, the state Health Commissioner Dr. Howard Zucker spoke to graduates at Upstate's virtual commencement in early May.
Caption: From left: New York Lt. Gov. Kathy Hochul speaks with Infectious Disease Division Chief Stephen Thomas, MD; Interim President Mantosh Dewan, MD; and Professor Frank Middleton, in the Neurosciences Research Building, about the university's COVID-related research efforts.