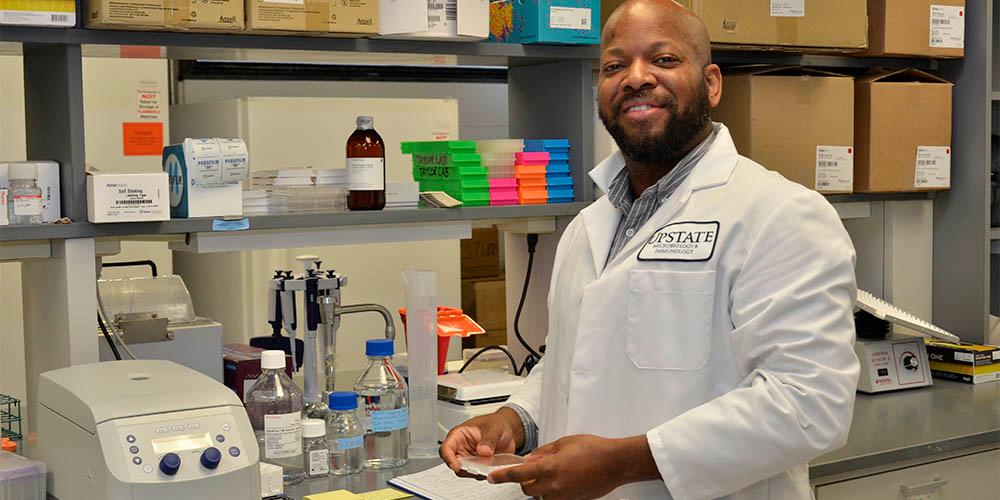 Research sheds new light on HIV replication process
When activated, CD4 T cells lead the body's immune system in fighting off infection. But not so with HIV, the virus that causes AIDS. HIV overtakes these activated CD4 T cells, disarming their ability to fight the invading infection. What's puzzling for scientists is why HIV prefers to replicate in these active CD4 T cells and not in resting CD4 T cells.

This puzzlement has just been solved. In a just published paper in Cell Reports, Harry Taylor, PhD, assistant professor of microbiology and immunology at SUNY Upstate Medical University, offers this finding: "We have now discovered that only activated CD4 T cells have the required resources to fuel the intracellular steps necessary to support HIV replication factory lines at full throttle," he said. "These activated T cells have ample stockpiles of the building blocks that HIV needs to make copies of itself. These building blocks don't exist at the same level of the resting CD4 T cells, and therefore these resting CD4 T cells are of little use to expand an army of progeny of the invading virus.

Taylor said HIV replicates in the hospitable intracellular environment of activated CD4 T cells while inactivating the immune response that protects individuals from infections at the same time.

"In our current study we have delineated the steps that HIV needs for replication and how they are supported by the various building blocks in these activated T cells," he said.

It is estimated that 1.1 million people are living with HIV in the United States and one in seven are living with HIV, but don't know it since they are likely showing no symptoms and have not been tested. Antiretroviral drugs have come a long way and have made HIV a manageable chronic condition, for some. But many of these drugs have significant side effects and a missed dose can have serious implications for reawakening dormant virus in these individuals.

Taylor said that much work is being done to identify new therapeutics and treatments for people with HIV, but it's important to remember that there is no cure, no vaccine and drugs don't eliminate the virus from the body.
However Taylor's work shows promise for therapeutics and treatments. "We have been able to show that drugs that strangle these supply lines also prevent HIV infection of susceptible CD4 T cells, thus providing a blueprint for a novel therapeutic approach to HIV/AIDS, he said."

His current work was facilitated with collaborations with Richard T. D'Aquila, MD (Northwestern) and Edward M. Campbell, PhD (Loyola University). Taylor began his funded research on HIV pathogenesis and antiretroviral therapies as a member of the faculty at Vanderbilt and Northwestern universities and as a postdoctoral fellow at Meharry Medical College in Nashville, where he was affiliated with the Center for AIDS Health Disparities Research.

Taylor joined the Upstate faculty in the fall of 2019 as an assistant professor of microbiology and immunology. He earned his PhD from Johns Hopkins School of Medicine.

His works has appeared in the journal AIDS, PLoS Pathogens, Journal of Virology, Nature, Journal of Biochemistry and others.

Caption: Harry Taylor, PhD., assistant professor of microbiology and immunology, in his Weiskotten Hall laboratory.