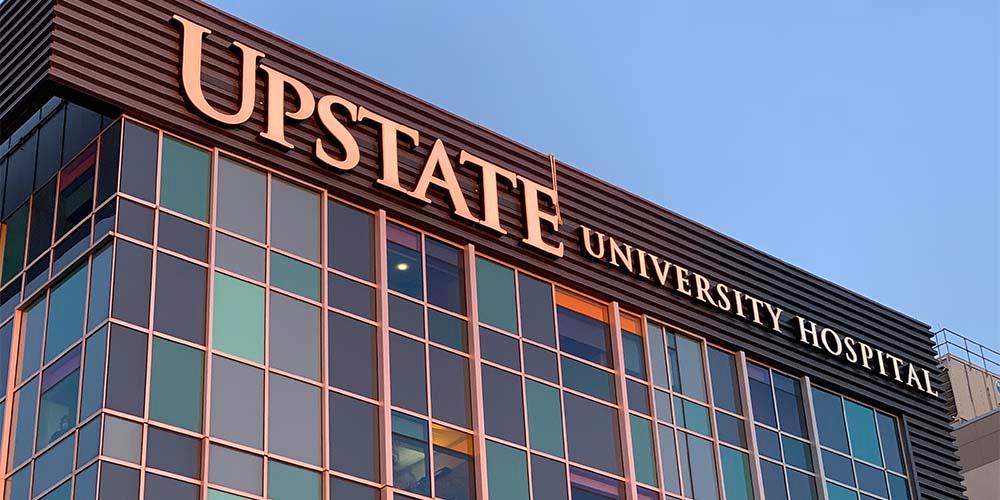 Upstate launches study to monitor family members of those diagnosed with COVID-19 to learn about transmission and immunity
Upstate Medical University will this week launch a new three-month study to monitor family members of those diagnosed with COVID-19 to learn more about transmission and immunity.
The COVID-19 Surveillance Research Study is funded through a $279,770 grant from The State University of New York and is a joint project between Upstate and The RNA Institute - SUNY Albany. Upstate will begin contacting patients this week to enroll. Currently all potential participants are people living with someone who was either tested for or was treated for COVID-19 at Upstate University Hospital.
The goal is to enroll about 10 family units per day for the next several weeks with a goal of enrolling 400 to 600 households. Half of participants could involve someone who tested negative for COVID-19 to better understand the virus's spread.
This real-time, rolling admissions study is an opportunity to answer many unanswered questions about the coronavirus and COVID-19, said Principal Investigator Katie Anderson, MD/PhD. Among the top questions she and fellow PI Frank Middleton, PhD, are hoping to answer are:
- How long can patients spread the virus during the initial days of hospitalized or home illness?
- What is the spectrum of clinical disease, including the proportion of asymptomatic infections?
- How quickly do people living with patients positive for the virus catch the illness?
- What individuals and communities are at highest risk for infection and illness and why?
Upstate will begin approaching patients through in-patient visits or by phone to those previously discharged from the hospital or emergency department, Anderson said.

"We expect that unfortunately other people in that household will likely become infected," Anderson said. "And we will find some of those people even before they're exposed or when they're in the very early stages of their illness, which for something like COVID is important because typically when we see patients come to the hospital, they've been sick for several days. It's a very prolonged disease course. But this way we're able to identify people early who have a high risk of becoming infected and also earlier stages in their illness."

Participants in the 100-day study agree to a saliva and blood test upon enrolling, which is conducted again each month. Those samples will be collected in the patient's home or in the test-site clinic, which is still being established, Anderson said. COVID-infected participants will also self-collect weekly saliva samples, which Upstate will pick up and test regularly. Upstate is working with Nascentia Health and Upstate HomeCare to arrange for safe sample collection, pickup and delivery, Anderson said. Onondaga Community College is also helping identify phlebotomists for sample collection.

Participants will also be required to complete regular questionnaires about symptoms, exposures and behaviors such as mask wearing.

"For those in a positive cluster (households with a confirmed COVID case), there is a four-week period of enhanced surveillance including daily diaries to record symptoms, home monitoring of oxygen saturation, heart rate and temperature. Weekly saliva specimens will allow detection of asymptomatic infections."
Anderson and Middleton have been developing the parameters of the study for the last several weeks.
"We haven't done this kind of study before in our community and logistically it's challenging," she said. "But every single person that we've turned to and asked for help – at all levels from a first-year med student all the way up to the CEO – have been willing to think outside the box and loan their time and resources to help with this."
Participants will not be compensated for their time but will learn more about their tests as the study progresses, Anderson said. Critical to the pool of participants will be those who tested negative as well as members of minority populations to better understand how the disease affects people of different races.
"We think less than 5 percent of our community has been exposed to COVID but those negative controls will help us understand that," she said. "And we're looking to preferentially enroll minorities or African-Americans because unfortunately, and in a way we don't understand, they may have been disproportionally affected by disease so we're trying to dive into those questions."
The blood and saliva samples will be tested at Upstate and The RNA Institute will be sequencing the virus, Anderson said. At Upstate, 35 residents and medical students will be helping with the study; the medical school has also created an elective to participate.
"This study is kind of a pilot," Anderson said. "The plan is to establish this as a platform for the long term so we're seeking additional funding from a variety of sources to extend this so we can study not just COVID but other diseases that affect our community such as Lyme disease, possibly influenza and maybe other non-communicable diseases."
Anderson said she is eager to begin the study and is hopeful the community will respond enthusiastically.
"People want to be doing something to help," she said. "We're three months into what has been a really difficult spring and early summer and to be engaged in something that is helping and can really address some important questions about COVID, I think really feels good. I'm hoping that participants and their families will feel the same way."