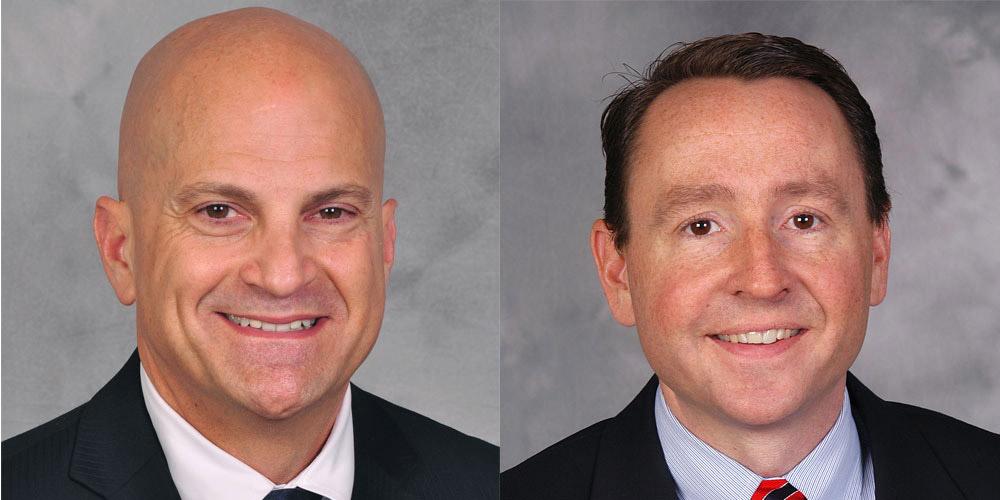 Two Upstate University Hospital administrators are recognized by Becker's Hospital Review
Two Upstate University Hospital leaders, Chief Executive Officer Robert Corona, DO, MBA, FCAP, FASCP, and Chief Financial Officer Stuart Wright, MBA, CPA, have been named in Becker's Hospital Review lists of the 100 academic medical center CEOs and CFOs to know.
Corona, was appointed CEO of Upstate University Hospital in January 2019, after serving as interim CEO since March 2018. As CEO, Corona has helped usher in an era of collaboration and innovation with a vision of transforming the hospital on the foundation of four pillars: Quality of Care, The Upstate Experience, Advanced Teams and Technology, and Sustainability. Corona said the pillars are designed to keep the hospital at the forefront of the best care, but also to position the hospital for the future to better fulfill its mission of being a smart, innovative teaching hospital. 
He also has helped foster Upstate's leadership role in creating a successful response to aid the community in the COVID-19 pandemic. Upstate has been a leader in facilitating COVID testing for local communities, developing online and phone triage systems to answer questions about COVID from the public and sending much-needed staff to hospitals hard hit by the pandemic in the New York City area.
Corona was named to the list of 100 CEOs in April. Also that month he was noted as one of 73 hospital CEOs from state's hardest hit by COVID-19. In that, Corona offered his analysis on a number of issues, including emerging from the crisis: "Start planning now for a rolling recovery and coming out of this crisis as a more resilient organization. Coming out of this crisis only to be the same organization you were before is a lost opportunity."
Prior to being named CEO, Corona led the development and implementation of the Upstate MIND (Medical Innovation and Novel Discovery) at the CNY Biotech Accelerator and was chair of the Department of Pathology and Laboratory Medicine, medical director of Neuropathology and vice president for innovation and business development. Now as CEO, he continues as the John B. Henry Professor of Pathology and Senior Associate Dean for Clinical Affairs in the College of Medicine.
Wright was named chief financial officer at Upstate University Hospital in 2008. As CFO, he oversees all financial functions for the hospital as well as patient access services, utilization management and retail/contract pharmacy operations. Among Wright's accomplishments during his tenure as CFO is his role in facilitating and driving growth of the enterprise from $500 million in annual revenues to now more than $1.2 billion.  Part of this growth was related to his key role in the successful acquisition and integration of Community General Hospital. He also led an organization wide re-engineering of revenue cycle processes and drove a paradigm shift in the organization toward financial disciplines, which has resulted in the hospital earnings profits in four of the last five years despite a reduction—and recent elimination—of state support.
During the COVID-19 pandemic, Wright has been instrumental in monitoring hospital finances, ensuring funding for needed resources to fight the pandemic and working closely with the state and federal governments to address the financial implications of COVID-19 on hospitals and promoting appropriate methodologies for distribution of funds.
Prior to joining University Hospital, Wright served in other divisional CFO roles for both Cigna, Inc (a national healthcare insurer) and Empire Blue Cross (a Medicare fiscal intermediary).
Wright was named to the list of 100 CFO's in December 2019.

The Upstate health system consists of two campuses, comprising 752 beds, numerous ambulatory clinics and more than 10,000 employees and is part of the SUNY Upstate Medical University.

Becker's Hospital Review is a monthly publication for the health care industry providing information on business and legal news related to hospitals and health systems.
Caption: Chief Executive Officer Robert Corona, DO, MBA, FCAP, FASCP, left, and Chief Financial Officer Stuart Wright, MBA, CPA.