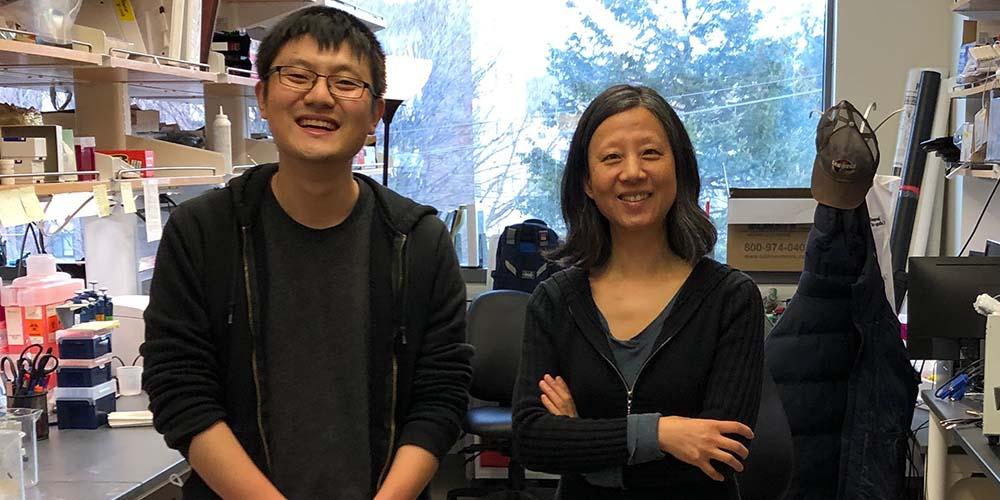 Upstate psychiatry researchers publish study about brain function and its influence on PTSD, panic and anxiety disorders
Upstate Medical University researchers from a lab in the department of psychiatry have a new paper published in the journal Cell about how the balance of brain cells responsible for storing memories have distinct functions and the balance between their functions may influence the occurrence of post-traumatic stress, panic and anxiety disorders.
Yingxi Lin, PhD, an associate professor of psychiatry and behavioral sciences at Upstate, joined Upstate from MIT in late 2018. Xiaochen Sun, who is the first author of the paper, is an MIT graduate student who has been working on the project since 2014. First-year Upstate graduate student, Meizhen Meng, who worked in the Lin lab previously as a visiting undergraduate student at MIT, is a significant co-author of the paper. 
The study published in Cell, published online in late March encompasses many years of study, research and experiments, Lin and Sun said.
The two began examining how episodic memory is encoded in groups of neurons in the brain that have distinct functions. They studied a subset of neurons in a part of the brain, the hippocampus, that specifically encoded episodic memories.
"In the lab, we combined a wide range of approaches, including molecular biology, electrophysiology, opto/chemogenectis and behaviors, trying to understand how exactly these neurons encode memories," Lin said. "In the current study, we found that these neurons, although all important for the memory, are not functionally identical. By manipulating these neurons using state-of-art technology called chemogenetics, we found that two groups of neurons that drive memory guided behaviors in opposite directions."
One group of neurons helps to generalize a memory, which allows the brain to act on that memory for future behavior (for example, generalization helps one learn how to ride a motorcycle faster if one already knows how to ride a bike). Another group of neurons allows the brain to differentiate between situations and makes the memory more specific (for example, discrimination helps one remember the details important for riding a bike but not a motorcycle). Balancing these two groups of neurons appears very important to health brain function, Lin and Sun said.
"Generalization and discrimination are like the two sides of the same coin, and need to be carefully balanced to avoid maladaptive conditions like overgeneralization in PTSD," Lin said. "We believe that the discrimination-generalization balance is likely mediated by the 'push and pull' of the two neuronal populations we discovered here."
Their research also found that the neurons responsible for generalization and discrimination are preferentially connected to neurons in other regions of the brain, through the strengthening of either excitatory or inhibitory synaptic connections.
"These results suggest to us that through learning, neurons in the brain undergo distinct cellular and circuit changes (stronger excitation vs. inhibition) to collectively encode the memory," Lin wrote. "The neural mechanisms we revealed underlying the discrimination-generalization balance would have important implications in developing novel treatments for neural disorders that involve overgeneralization, such as PTSD and panic disorders."
Sun, who defended his doctoral dissertation on this topic in February, said working with Lin on this project has opened up his research into many new areas. Both said they are excited to continue their research, which could eventually include treatments for anxiety and panic disorders as well as PTSD.
"We're going to use the study to really probe into the diseases and find where the balance is off," Sun said. "This really opens up a lot of doors, not just in this particular region but other brain regions and even artificial neural networks as well; there are some very important implications to this."
Caption: Yingxi Lin, PhD, an associate professor of psychiatry and behavioral sciences at Upstate, right, and Xiaochen Sun, a graduate student at Massachusetts Institute of Technology, are authors of a study in Cell about how the balance of brain cells responsible for storing memories have distinct functions and the balance between their functions may influence the occurrence of post-traumatic stress, panic and anxiety disorders. (Photo was taken in the Lin lab at the Institute for Human Performance prior to the COVID-19 pandemic.)