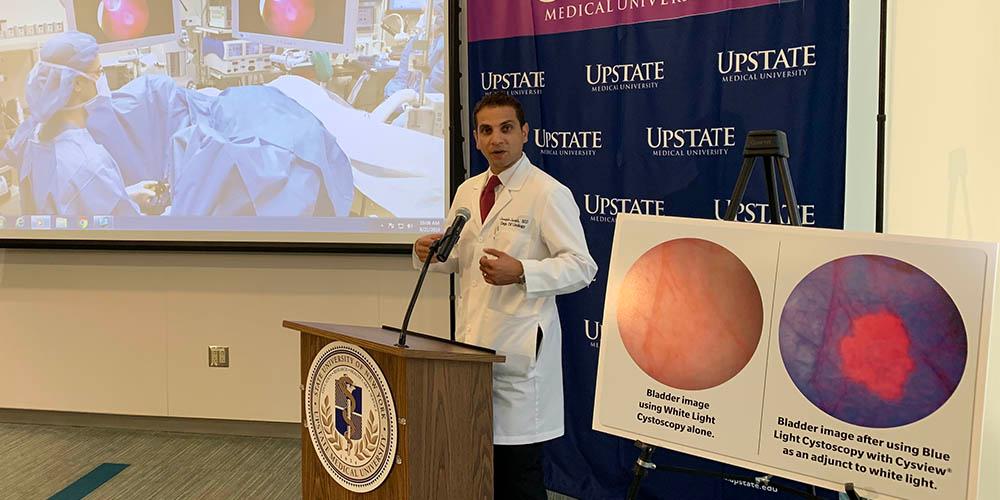 Upstate physician earns key appointment to North American clinical trials consortium
Joseph Jacob, MD, MCR, assistant professor of urology and director of the Bladder Cancer Program has been named as member of the board of directors of the Society of Urological Oncology Clinical Trials Consortium (SUO-CTC), a network of leading clinical trial researchers from across North America.
He also has been named to the SUO-CTC Bladder Organ Site Committee.
Jacob joins Gennady Bratslavsky, MD, professor and chair of the Department of Urology, on the board. Bratslavsky serves as president of SUO-CTC.
"To have two members of the Upstate faculty serving on this important panel says volumes about the caliber of our urologic cancer program," said Lawrence Chin, MD, dean of the College of Medicine.
Jacob joined Upstate in 2017 and was quickly named chief of the bladder cancer program. Since that appointment, he has helped implemented numerous quality improvement protocols and introduced new technology to detect and treat bladder cancer, such as the Blue Light cystoscopy that enables doctors to see even the tiniest of cancer tumors in the bladder. He has helped enhance patient care and reduce hospital stays for radical cystectomy patients by implementing ERAS (early recovery after surgery) protocol. Jacob serves as principal investigator on numerous bladder cancer clinical trials at Upstate. Jacob's research has been published in leading national and international medical journals.
Created, owned and operated by its members, the SUO-CTC is a clinical research investigator network of more than 200 clinical sites in the U.S. and Canada. This national alliance of leading academic and community-based uro-oncologists is committed to furthering urology research.
SUO-CTC pursues clinical trials, in concert with sponsors, to investigate therapeutic interventions which address urological cancers including, but not restricted to prostate, bladder, or kidney cancers. Together with industry, the SUO-CTC offers enhanced research options for ultimately delivering a better quality of life to patients.
The SUO-CTC fills the need for dedicated expertise and clinical input into the design of urology focused clinical trials and patient recruitment. Additionally, the SUO-CTC takes primary responsibility for delivery (i.e., reporting from supporting information systems) of clinical and translational research data to the Society of Urologic Oncology and the academic community at large.
Caption: Joseph Jacob, MD, at a press conference last year, announces a new technology—Blue Light cystoscopy—in use at Upstate that allows doctors to detect the smallest of bladder cancer tumors. Jacob has been named to the board of directors of the Society of Urological Oncology Clinical Trials Consortium.