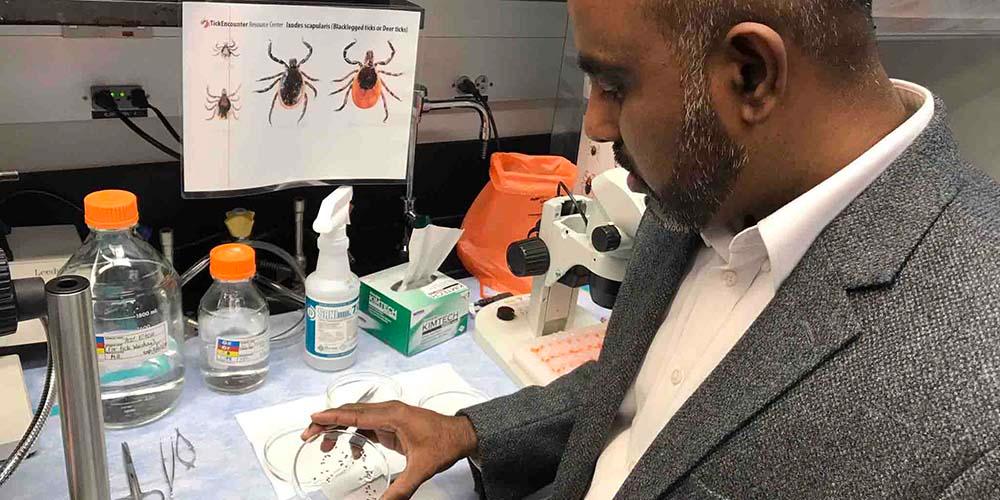 Upstate to begin testing ticks from public on June 1
Upstate Medical University's Citizen Science Tick Testing Program will open June 1 to begin receiving ticks to see if they are carrying Lyme and other diseases.
The tick testing program, headed by Upstate Professor Saravanan Thangamani, PhD, has received 4,051 tick samples since it began last July.
Thangamani, a professor of microbiology and immunology at Upstate and director of the SUNY Center for Environmental Health and Medicine, is studying the geographic expansion of ticks and tick-borne disease in New York.
Thangamani predicts a longer tick season with great number of ticks, due to the relatively mild winter in the Northeast.
Using the samples from across the state, Thangamani's lab tested each tick for several diseases including Lyme, Babesia, Ehrlichia and several others. The researchers found that 30.2 percent of ticks sent in by the public were carrying Lyme disease bacteria and 35.4 percent in total were carrying some sort of disease causing agent.
The researchers also examined if the ticks were carrying more than one disease at a time. Thangamani's lab also tracked where in the state the samples came from; residents in nearby Onondaga, Oneida and Madison counties submitted the greatest number of samples.
This year, Thangamani's lab has developed a new website (https://thangamani-lab.com/) where individuals can provide information on the ticks they are submitting.
Researchers want to know the date the tick was collected, whether it was attached to an animal or human and whether it was found at a public or private location. The website also offers information on how to package and send your tick to researchers.
Professor Saravanan Thangamani, PhD, in his lab at Upstate Medical University. Thangamani heads uo the Citizen Science Tick Testing Program.