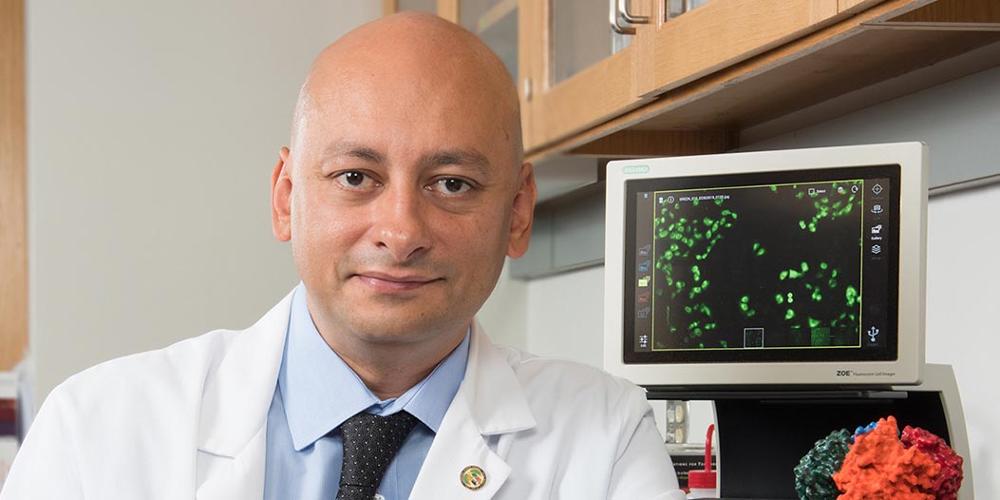 Upstate professor lands federal grant to continue kidney cancer research
An Upstate Medical University urology professor has been awarded a grant from the Department of Defense (DOD)  to continue and advance his research on kidney cancer.
The grant will support work by Mehdi Mollapour, PhD, vice chair for translational research for the department of urology, and his lab as it continues a decade-long research project into understanding kidney cancer biology and to develop novel therapeutic strategies to treat patients. Mollapour, professor of urology, molecular biology and biochemistry, is also the director of kidney cancer biology at Upstate.
His work, published in high-impact-factor journals (Dushukyan et al, 2017, Cell Reports & Oberoi et al, Proceedings of the National Academy of Sciences, 2016) identified a prosurvival role for PP5 protein in kidney cancer. Mollapour's lab is currently funded by several grants from the National Institutes of Health and the National Cancer Institute. He applied for this DOD grant last fall and was notified of the award this spring.
"It's always exciting when any grant is funded," he said. "From small amounts to big amounts, to have the funds to be able to continue our work and pay students and pay researchers is exciting."
About 74,000 Americans will be diagnosed with kidney cancer in 2020, according to the American Cancer Society. The disease is more common in men and kills nearly 15,000 people in the U.S. each year, according to the ACS.
In the application for the DOD grant, Mollapour's lab cites a higher risk for developing kidney cancer among military families because of environmental exposures. The application also talks about what a difficult disease it can be to treat, highlighting the need to seek biomarkers for early detection and new therapies like those being developed in Mollapour's lab. Traditional radiation and chemotherapies are ineffective in patients with kidney cancer and when presenting with large or locally advanced tumors, about 50 percent develop metastatic disease, for whom the five-year survival rate is less than 20 percent, according to the application.
The most recent grant – Mollapour's first from the DOD – will propel the lab's work and continue to open doors for additional funding.
"The grant allows us to better understand this disease and new ways of treating it. Naturally, data generated here will enable us to obtain further funding," he said. The $400,000 grant will support research staff, including students, working in the lab for two years. He and his staff are actively applying for additional funding from the National Institutes of Health.
Mollapour credits the work of everyone in his lab for obtaining this grant. After learning the good news about the DOD funding, Mollapour said he does what he always does when he is notified of new grant funding – he calls Upstate Chair of Urology Gennady Bratslavsky, MD, on the phone and plays the song "We Are The Champions," by Queen over the phone.
"When he hears that he knows what happened," Mollapour said laughing. "We have a secret code and Bratslavsky gets equally excited because he appreciates the importance of research and that is why he is fully committed in supporting research."
Mollapour and Bratslavsky worked together before coming to Upstate.
"Dr. Mollapour is a brilliant scientist and I take great pride in being able to recruit him from the National Cancer Institute where we both worked in urologic oncology studying kidney cancer," Bratslavsky said. "I respect Dr. Mollapour's talent in research, his perseverance and his ability to be a mentor for many of my students and residents."
Mollapour said this grant is exciting and important because of its direct connection to patient care and its potential to extend the lives of kidney cancer patients.
"I know whatever we are going to do in terms of research will directly impact the kidney cancer patient," he said. "This is not one of those types of research that is 10 steps away from helping the patient. This is so gratifying and very exciting. The patient is always on my mind. It might be cliché but I really think we will help the patients with this. We are going to make it happen one way or another."
Caption: Mehdi Mollapour, PhD, vice chair for translational research for the department of urology, in his lab.