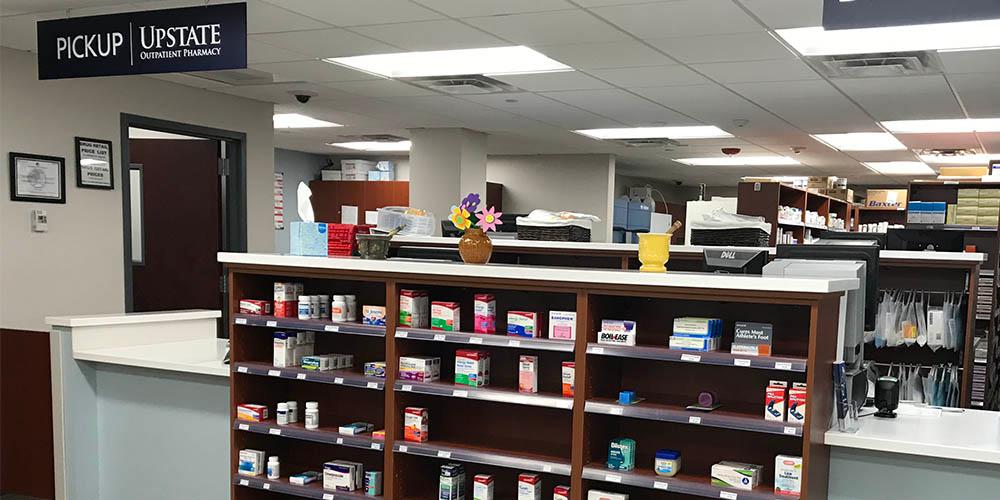 Upstate's Outpatient Pharmacy offering free home delivery for COVID-19 patients to limit community exposure
Upstate's Outpatient Pharmacy is now offering free home delivery of prescriptions for all COVID-19 patients or suspected patients who are treated and released from Upstate's emergency departments.
The service is meant to help patients physical distance and self-quarantine more effectively, said Eric Balotin, RPh, associate director of pharmacy enterprise. Since it opened nearly two years ago, Upstate's Outpatient Pharmacy has been working to make the process of obtaining prescriptions for discharged patients easier and faster. Free delivery of prescriptions during the coronavirus pandemic speaks to the heart of the pharmacy's mission, Balotin said.
"The purpose is to allow patients to increase social distancing by going directly home from the hospital without having to stop at a local pharmacy. This will help to limit community exposure," Balotin said.
The Outpatient Pharmacy has delivered prescriptions for a handful of patients to date. The pharmacy is working with local medical transport companies for the free service. A transport driver picks up the prescription from the Outpatient Pharmacy located near the main lobby of the downtown hospital. The driver calls the patient upon leaving Upstate and then calls again upon arrival, instructing the patient to stay inside. The driver leaves the medications outside the person's door and then calls again from his or her vehicle to let the patient know it's safe to come outside. The driver stays at the home until he or she sees the patient pick up the medications.
The new home-delivery service started late last week and was initially only for confirmed or suspected COVID-19 patients seen in Upstate's two emergency departments. The service has more recently expanded to any patients, regardless of diagnosis, coming through the emergency department at Upstate Community Hospital and could be expanded further, Balotin said. The pharmacy will also deliver prescriptions the next day to patients who visit the ED during off hours, he said.
The Outpatient Pharmacy also runs a successful "meds to beds" program for inpatients at Upstate University Hospital, which provides patients with the prescriptions they need before going home. Prior to the pandemic, the program significantly lowered patient hospital readmissions as it makes obtaining prescriptions easier and faster.
"We built the pharmacy with a strong meds to beds program so patients can go home and get rest and get better and not have to stop at a pharmacy," Balotin said. Inpatient use of the meds to beds program has jumped from about 30 percent prior to the pandemic to about 75 percent usage in April, he said.
The pharmacy has also seen an increase in its free shipping program for prescriptions, Balotin said. The Outpatient Pharmacy mailed prescriptions to about 1,500 patients in March – an increase of about 55 percent since the start of the pandemic.  
Upstate's Outpatient Pharmacy is open to the public, Balotin said. Pharmacy staff can help transfer prescriptions from other pharmacies and make arrangements for pick-up or delivery by mail. The pharmacy also has dedicated medication assistance coordinators who work with insurance companies, manufacturers and nonprofits to help patients pay for their medications.
"What's nice is that when you use our pharmacy, we try to initiate all of the other aspects of our team," he said. "If there are affordability or insurance issues we try to address that."
Balotin said his staff is proud to be contributing to Upstate's collective efforts in the fight against COVID-19.
"It's definitely a team effort, regardless of department. I think everyone has a share in taking care of patients and to increase social distancing," he said. "We don't care where you live, we don't care how many prescriptions you need. If it's one, we'll deliver it to you. If it's 10 we'll deliver it to you. That's what makes us unique. We don't really have profit in mind. Our only goal is to take care of patients."
Upstate's Outpatient Pharmacy is open 8 a.m. to 6 p.m. Monday through Friday and 9 a.m. to 2 p.m. weekends and can be reached at 315-464-3784.