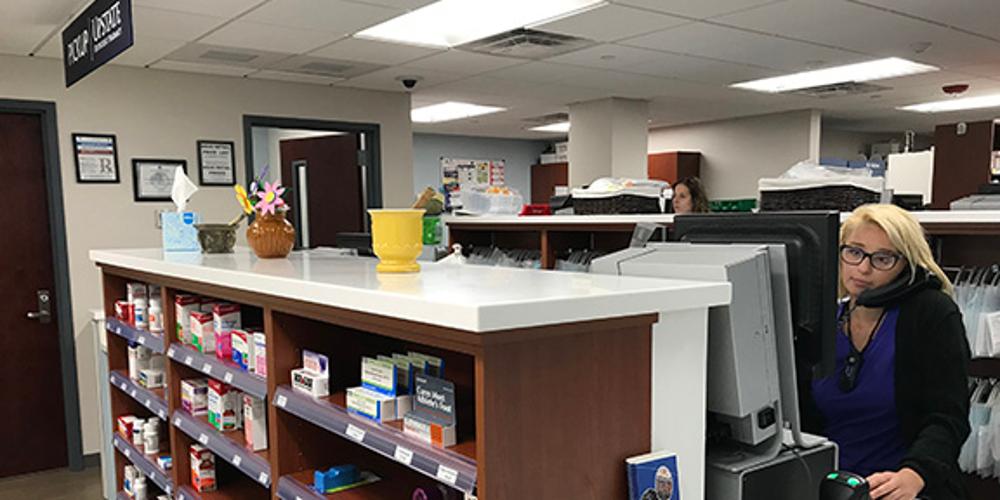 Upstate's Outpatient Pharmacy celebrates first successful year, plans to expand staff and services
In its first year of operation, Upstate University Hospital's Outpatient Pharmacy has tripled its prescription output, expanded its staff and helped lower the hospital readmission rate.
The pharmacy, which opened in June 2018 off the main lobby of the downtown campus, was established to better provide patients with the medications they need upon discharge. The Outpatient Pharmacy is able to do that thanks to a large supply, a diverse staff of pharmacists throughout the hospital, and an entire team whose job it is to make sure the patient can afford the medication, said Eric Balotin, RPh, associate director pharmacy enterprise.
"We just want to get the word out to take advantage of us because we're here to help you," Balotin said. "There are more patients who need our help."
Upstate's Outpatient Pharmacy is open to the public and optional for patients. Patients may use the pharmacy upon discharge and then switch back to a home pharmacy for future needs. And patients coming from the Community Campus can park in the front circle for curbside delivery, Balotin said.
Filling a prescription the traditional way can be time-consuming, costly and for some patients, dangerous, Balotin said. The example he gives is a patient leaves the hospital and is told to visit his or her home pharmacy to pick up medicine that is critical to their healing. The moment the patient leaves, however, any number of things can go wrong: the patient may not have transportation or feel well enough to go to the pharmacy, which can delay or prevent access to the medication. Once there, the pharmacy may not have the correct dosage or medicine in stock. The pharmacy may also require additional approvals from insurance companies or doctors before filling the medication – a process that can sometimes take hours or days. Or the patient may not be able to afford the medication and then leaves without getting it. For those reasons and more, up to 30 percent of patients never fill their prescriptions upon leaving the hospital, Balotin said. 
The pharmacy encourages doctors and nurses to send prescriptions as soon as possible, which gives pharmacy staff more time to eliminate potential problems. For that reason, 90 percent of prescriptions are authorized within 24 hours, he said. Of the patients who use the Outpatient Pharmacy upon discharge, which ranges between 30 percent and 38 percent of all discharges per month, the 30-day hospital readmission rate is 5.48 percent, Balotin said. (This is a significant reduction as compared to the overall hospital rate, he said.) 
"It's a safer way to go home and it's more convenient than having to stop somewhere when you leave," he said, noting the Outpatient Pharmacy can also deliver locally and ship almost anywhere in the state.  
During the last year, the Outpatient Pharmacy's medication assistance team has supplied patients with nearly $1 million in external assistance to pay for medications. That's done by working with insurance companies to negotiate co-pays and deductibles as well as drug manufacturers on discounts and free supplies. Once those options are exhausted, the pharmacy can work with the Upstate Foundation to help patients who can't afford their medications, Balotin said.
"Other pharmacies are trying to make money," he said. "We're trying to save patients money." 
The Outpatient Pharmacy works with Upstate pharmacists throughout the hospital including at the Cancer Center, rheumatology, neurology, oncology, transplant, urology, adult medicine, the Cystic Fibrosis clinic and the Immune Health Services clinic with plans to expand to behavioral health. Plans in the next year include hiring more discharge pharmacists and possibly opening a location at the Community Campus, Balotin said. 
Outpatient Pharmacy Manager David Geloso, RPh, said the last year has been an exercise in trouble-shooting, problem-solving and serving patients.
"We took the traditional piece away and said how do we do it better? How do we do this with the greatest of ease for patients," Geloso said. "Our goal was how do we take care of patients like they've never been taken care of before.
"Every day we make the impossible seem possible and we do it on a daily basis."