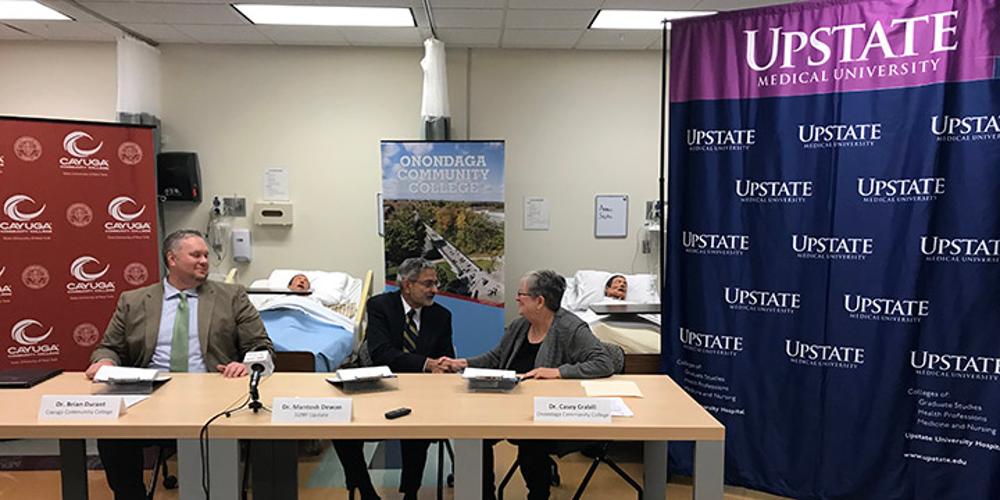 Upstate partners with OCC, CCC to create dual admission path for nursing programs
Upstate Medical University has partnered with two local community colleges to create a new, guaranteed path to a four-year degree in nursing and an opportunity for employment in the industry.
The new dual admission program is with Onondaga Community College and Cayuga Community College and their associate degree in nursing programs. The goal of the joint initiative is to align the efforts of all three schools to foster a consistent pipeline of well-qualified nurses to work in New York state. The program creates a clear pathway for high school graduates into an associate degree program for nursing at a community college with automatic admission into the Upstate College of Nursing's bachelor of science in nursing program.
The admissions departments at OCC and CCC will screen candidates for admission to those schools and eventually into Upstate's College of Nursing. Students are required to achieve a 3.0 cumulative GPA by the end of their final semester in the nursing programs at OCC and CCC and have completed all prerequisite courses with a grade of C or better.
To obtain an associate degree in nursing from either school, the student must meet all course and credit requirements, which includes nursing courses and liberal arts and science courses. Students must pass the NCLEX (national licensing) exam before enrolling at Upstate.
Students enrolled in the program may interview with Upstate for a variety of positions during their four years of studies, said Krystal Ripa, Upstate director of special admissions programs.
"We are embedding guaranteed interviews into multiple parts of the program," Ripa said. A student in the earlier years of the program may interview for a healthcare technician position for example. And with graduation in sight, the student is then guaranteed an interview for an open RN position, should they choose, she said.
The new dual admission program creates a clear pathway for students to find careers in health care.
"Part of Upstate's mission is to look for and help create clear pathways for students from high school to college and into careers in health care," said Upstate Interim President Mantosh Dewan, MD. "This dual admission program with two outstanding local community colleges helps facilitate that. This partnership is a win for students, for Upstate and for the community, which will benefit from more highly educated nurses in Central New York."
Upstate hopes to attract 50 students – 25 from each school — to the program each year. The first students will enroll in the pathway in the fall 2020 semester.
"Collaborative approaches to develop key relationships with our community college partners can have profound influence on the perception of nursing, mutually beneficial relationships between campus programs, as well as addressing health care needs in Central New York," said College of Nursing Dean Tammy Austin-Ketch, PhD. "Developing and implementing pipeline programs for nursing, moving students from community college programs upon graduation to upper division nursing, not only assists the students in meeting the BS in 10 requirements in New York state, but also serves the area by retaining these fine nurses in their home communities."
For more information about Upstate's College of Nursing, visit www.upstate.edu/con/.
Caption: Upstate Interim President Mantosh Dewan, MD, (center) joins Cayuga Community College President Brian M. Durant (at left) and Onondaga Community College President Casey Crabill (at right) at a joint signing agreement event Monday morning in a nursing classroom on the OCC campus.