Upstate Medical University announces agreement with Cardiovascular Group of Syracuse to join faculty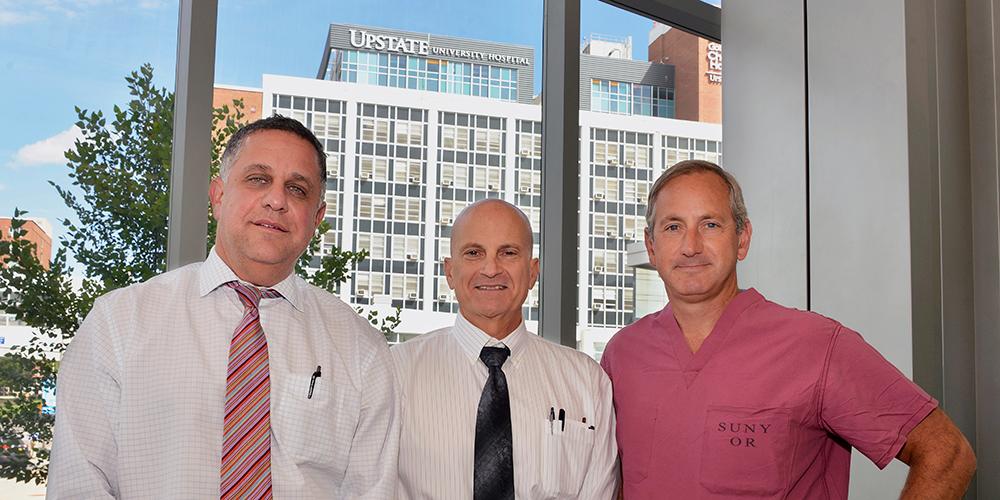 SYRACUSE, N.Y.— Upstate Medical University has announced an agreement to have the Cardiovascular Group of Syracuse, a comprehensive cardiology practice in Central New York, join its faculty. The move was effective Sept. 1.

The move to add the practice that includes eight cardiologists to the Upstate medical faculty is a key step in Upstate continuing to build its Heart Institute and increases its number of outpatient cardiology sites to six locations. The Upstate Heart Institute unites the expertise and advanced technologies of cardiac surgeons, and cardiovascular and cardiology specialists, set within the resources of the region's only academic medical university. For patients, the addition of the new cardiologists at Upstate will put into place the expanded medical team to create streamlined care, with greater access to other experts and treatments as needed. The expansion also secures the safety net services for vulnerable patients and provides more support for the specific needs of older patients. More faculty also provides the ability to create new programs, such as a women's heart program, and strengthens the setting where a patient's interrelated issues can be addressed by the team.

"Welcoming members of the Cardiovascular Group of Syracuse to our faculty enables Upstate to take a major step forward as a multi-faceted heart program that incorporates the best in academic medicine, including patient care and research," said Sri Narsipur, MD, interim chair of the Department of Medicine at Upstate. "Our work together will provide patients with collaborative care teams dedicated to providing seamless, exceptional care for our patients."

Upstate's work on building a world-class heart program began with its appointment in 2017 of G. Randall Green, MD, JD, MBA, as division chief of cardiac surgery and director of the Upstate Heart Institute. In building the multidisciplinary institute, Green has helped to expand cardiology and cardiac services and has brought new state of the art cardiac intervention and surgical modalities to Upstate. "The announcement today that this group has joined the Upstate faculty speaks to the opportunities that area cardiologists see for their patients with an alignment to an academic medical center," he said.

"We are very excited about our affiliation with Upstate Medical University," said Mark Charlamb, MD, speaking for the new Upstate cardiologists. "Joining the faculty provides our cardiologists and our patients access to advancements in care and the availability of experts that only the setting of an academic medical center can provide."


As part of the medical university setting, the addition of the new faculty members will enhance the training programs for medical residency and provide patients with greater access to clinical trials.

The Cardiovascular Group of Syracuse has served Central New York for more than three decades in two locations (Fayetteville and Liverpool) and brings strength in interventional cardiology, Watchman and TAVR procedures, and performs Nuclear Stress Testing, Echocardiography (Transthoracic, Stress, Dobutamine Stress), Carotid Ultrasound, Ankle-brachial Index, Pacemaker maintenance and provides additional sites for Coumadin clinics.

This connects to Upstate's strengths in existing cardiology program that includes a variety of diagnostic procedures and treatments, including 24 hour Electrocardiogram (EKG/ECG) Holter Monitoring, Cardiac Catheterization, Computer Tomography (CT) Cardiac Angiography, Dobutamine Stress Echocardiogram, Echocardiogram, Electrocardiogram, Electrophysiology Studies, Exercise Stress Testing, Positron Emission Tomography (PET), Transesophageal Echocardiography (TEE), Catheter Ablation for Atrial Fibrillation, Coronary Angioplasty, Coronary Artery Bypass (CABG), Coronary and Vascular Stenting, Cryo Ablation, Heart Valve Replacement and Repair, Cardioverter, Defibrillator Implants and Pacemakers

Charlamb said there will be no change in care or service for its more than 20,000 patients, and a letter detailing the relationship with Upstate has been sent to them.

The new Upstate practice sites are at 5112 West Taft Road in Liverpool and 510 Towne Drive in Fayetteville. These join existing outpatient cardiology sites at 90 Presidential Plaza in Syracuse; 5700 West Genesee Street in Camillus; 102 West Seneca Street in Manlius and 138 East Genesee Street in Baldwinsville.


Caption: Mark Charlamb, MD, of the Cardiovascular Group of Syracuse; Robert Corona, DO, MBA, chief executive officer of Upstate University Hospital, and G. Randall Green, MD, JD, MBA, division chief of cardiac surgery and director of the Upstate Heart Institute.