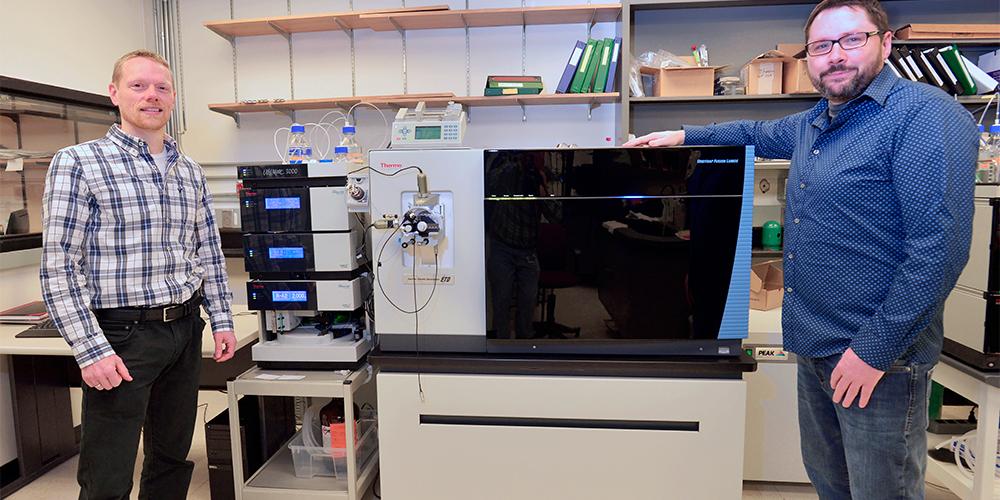 Ultra-high performance mass spectrometer is a 'game changer'
Thanks to a $1.1 million National Institutes of Health grant, researchers at Upstate Medical University now have access to an ultra-high performance mass spectrometer—one of the most advanced available today—enabling them to make further advances in the fields of structural and quantitative proteomics and metabolomics and drug discovery.
A mass spectrometer is used to make chemical analyses by producing charged particles, also known as ions, from chemical substances. It then uses electric fields to measure the weight of the charged particles, which researchers say is important in helping to identify and distinguished the ions or molecules from other molecules.
A key feature of this mass spectrometer is its versatility and speed. This model has a faster scanning speed than previous models, allowing for more in-depth analysis of a sample in a shorter time frame, thereby maximizing the data obtained for a single sample and the number of samples that can be analyzed in a given amount of time.
"The spectrometer is game changer for us on the research front as it will also allow us to train future generations of research technicians and introduce post-doctoral fellows and graduate students to the latest biomedical mass spectrometry applications in the areas of proteomics, metabolomics and diagnostics," said Bruce Knutson, PhD, assistant professor of biochemistry and molecular biology, author of the grant to acquire the spectrometer.
The mass spectrometer, housed in Upstate's Weiskotten Hall, will be available to researchers at nearby institutions, including Syracuse University, the College of Environmental Science and Forestry, SUNY Oswego and others.
"This spectrometer will have a long-term impact on research in Syracuse area in that it that it will accelerate NIH and other research funds for nearly two dozen researchers," Knutson said.
Some of the work expected to be carried out with the mass spectrometer include metabolite analysis and biomarker discovery as well as to determine the topological structure and 3D architecture of macromolecular protein complexes. Metabolomics is the large-scale study of small molecules, commonly known as metabolites, within cells, biofluids, tissues or organisms.
The new mass spectrometer replaces 2 older instruments that were no longer suited for work in proteomics and metabolomics.
Caption: Bruce Knutson, PhD, assistant professor of biochemistry and molecular biology, right, who wrote the grant for the mass spectrometer that will further his studies in structural proteomics, and Ebbing de Jong, PhD, the director of the proteomics and mass spectrometry facility, who maintains and operates the instrument.