Upstate's College of Health Professions expands Respiratory Care Program into Binghamton and the Southern Tier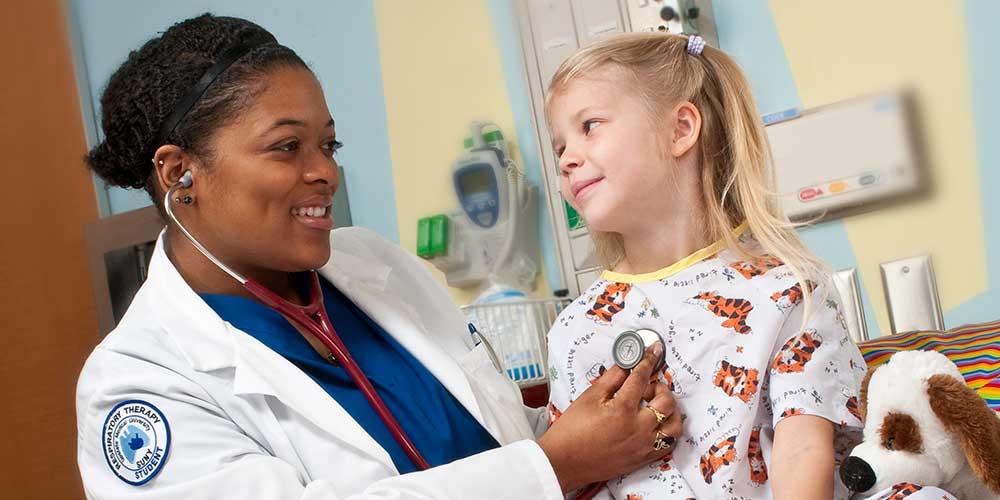 Upstate Medical University's College of Health Professions is expanding its Respiratory Care Program to help meet the demand for respiratory therapists in Binghamton and the Southern Tier.
Beginning this fall, students enrolled in the distance learning program will attend classes at Upstate's Clinical Campus in Binghamton where they will be linked by video in real time with respiratory care courses at Upstate's campus in Syracuse. Students will interact with their professors and fellow students, and participate fully in classes.
Claire Aloan, interim chair of Respiratory Therapy at Upstate Medical University, says demand is high for respiratory therapists. "Hospital administrators call with requests for Upstate graduates, and the need is particularly acute in the Southern Tier where there is no respiratory program. UHS Wilson Medical Center and other area hospitals have been looking for a solution," said Aloan.
To assist in the recruiting efforts, UHS Wilson is offering up to three scholarships for students in this inaugural class. "The UHS Respiratory Therapy Education Incentive Program will offer tuition assistance so students are able to focus on studies, not financial concerns," said Chris Medlar, professional recruitment coordinator at UHS Wilson.
Upstate's expanded Respiratory Care Program is designed to attract those who are local to the Southern Tier, some of whom will stay in the area after graduation. The program has an affiliation with UHS Wilson Medical, and most of the students' clinical rotations will be done in Binghamton hospitals, allowing for hands-on patient experience in a hospital setting.
Respiratory therapists are an integral component of the health care team—evaluating, treating, testing, and monitoring patients of all ages. They work in hospital intensive care units and emergency departments, home care facilities, and outpatient clinics.
Upstate's Respiratory Care Program is a 21-month bachelor of science program that prepares students for entry- and advanced-level practice. Coursework trains students to become bedside respiratory therapists prepared to work within a wide variety of specialties, while also becoming leaders in management, education and research.
The program accepts 20 students each year at Upstate's main campus in Syracuse and eight students annually at the distance learning site at Upstate's Clinical Campus in Binghamton. Upstate Medical University was one of the first schools in the nation to offer a baccalaureate degree in respiratory therapy, in 1975.
For more information about Upstate's respiratory care degree, visit Upstate Respiratory Care, or contact Upstate Admissions at admiss@upstate.eduor 315-464-4570.
To learn more about UHS Wilson Medical Center scholarships, email Claire Aloan at aloanc@upstate.edu.
To arrange media interviews, email Kathleen Paice Froio at paicek@upstate.edu.