Ottothon raises nearly $200,000 for Upstate Golisano Children's Hospital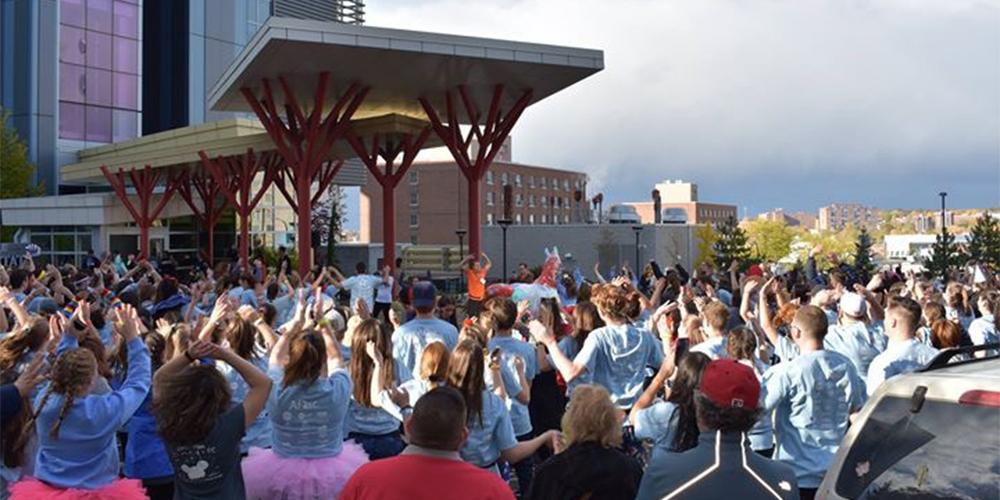 Syracuse University students danced for 12 hours straight Nov. 3 to raise nearly $200,000 for Upstate Golisano Children's Hospital.
Ottothon, Syracuse University's annual dance marathon—For the Kids, has brought in nearly $500,000 to benefit the children's hospital since it was first held in March 2015.
"The students do more and more each year as their beneficent spirit soars during Ottothon," said Toni Gary of the Upstate Foundation and director of community relations for the children's hospital. "We are so grateful for the support they provide our patients and their families."
The Upstate Foundation began its relationship with Syracuse students several years ago before the first Ottothon was held. An SU student who coordinated a dance marathon to raise money for a children's hospital in her hometown wanted to do the same for Upstate Golisano Children's Hospital.
The Foundation jumped at the idea, and SU students have been dancing ever since.
Before each Ottothon is held, Gary said, SU students tour the children's hospital and meet with the health care teams and patients and families. They also plan craft-making and other activities for the patients.
"The visits and activities help the students build a better understanding about the daily activities of the hospital and courageousness of our patients and their families," she said. "They hear many touching stories about our families and understand the difference they can make with their support."
This year the money will support upgrades and enhancements to the Olivia Pietrafesa Center for Children's Surgery, where all outpatient pediatric surgery is performed. Funds will also be allocated to help pay for family meals.
One way students lifted spirits last Saturday was during a break in their marathon when they gathered at the entrance of Upstate Golisano Children Hospital. With patients and families looking down from the hospital performance center, students performed a morale dance.
"It was a great way to reinforce a message that says we support you, we care about you and we want you to get better real soon," Gary said.
Caption: Syracuse University students walked the entrance of Upstate Golisano Children's Hospital to dance for patients and families who watched from Performance Center.