Upstate study highlights key principles of a successful malaria elimination program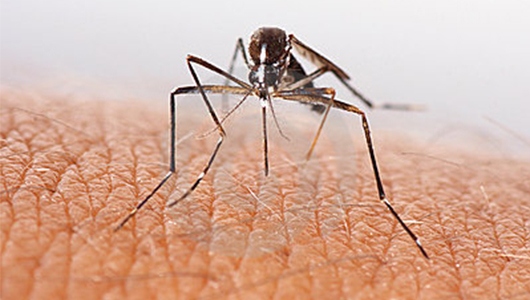 SYRACUSE, N.Y.-- An Ecuador-Peru border region with a population of more than800,000 has been malaria free since 2012, due to a strong binationalcollaboration for malaria control, according to findings from a study byUpstate Medical University researchers and their national andinternational colleagues. The researchers say that this collaborativeapproach can serve as a model to rid mosquito-borne illnesses worldwide.
The study, "Successful malaria elimination in the Ecuador-Peru borderregion: epidemiology and lessons learned," was published in the Nov.28, 2016, issue of Malaria Journal.Mark Polhemus, MD, Rosemary Rochford, PhD, and Anna M. Stewart Ibarra,PhD, MPA, of Upstate's Center for Global Health & TranslationalScience, are the Upstate researchers who participated in the study. Thestudy was supported in part by the Department of Defense Global EmergingInfection Surveillance (GEIS) grants.
Polhemus says that the study highlights some key principles of asuccessful malaria elimination program that can inform the nextgeneration of public health professionals in the region. "The approachused can also serve as a guide to ongoing and future control efforts ofother emerging vector borne diseases globally," says Polhemus, directorof Upstate's Center for Global Health & Translational Science andassociate professor of medicine and microbiology and immunology.
The study documents the control efforts and identifies the bestpractices and lessons learned that could be applied to malaria controland to other vector-borne diseases. The researchers studied the robustmalaria elimination program in the bordering region of El Oro Province,Ecuador, and the city of Tumbes, Peru, a coastal region once endemicwith the mosquito-borne infection.
The binational collaboration took place over the course of 20 yearsfollowing an upsurge of malaria in the 1980s to early 2000s. Thecollaborative approach of local leaders from each region led tostrengthened surveillance and treatment strategies, shared resources,operational research to inform policy, and novel interventions, such asimproved quality of miscroscopy diagnostics; proactive detection offebrile individuals at the community level through a network ofvolunteer community health workers; and an augmented epidemiologicsurveillance system dedicated to malaria.
Stewart Ibarra says that when planning their malaria control program,the collaborators took into account social-ecological factors.  "Forexample, research findings prove that climate events, such as El Nino,and livelihoods that involve water contact, such as rice farming,increase the risk for malaria, among other factors," says StewartIbarra, an expert in the ecology of infectious diseases and director ofthe Latin America Research Program at Upstate's Center for Global Health& Translational Science. "This information, as well as otherbiophysical, ecological and social drivers of the disease, was takeninto account when action plans were created by the collaborators."
She adds, however, that the true success of the program is in theability of the two nations to work together to eliminate a public healththreat. "International collaborations are required to controlmosquito-borne diseases which know no borders," she says.
The recommendations and lessons learned cited in the study include:
-Consider radical, non-traditional interventions when necessary.
-Explore alternative techniques using small, localized pilot projects. The evidence generated can impact national policy.
-National policies and standards need to be translated to local realities.
-An active case-finding surveillance system coupled with a strict treatment plan can be translated to among any environment.
-A small team of dedicated, long-term public health practitionerscan be nimble and effective when empowered by regional and nationalnetworks.
-The importance of sharing experience with the next generation ofpublic health practitioners so that they too can learn from theselessons and not repeat the mistakes of the past.
The researchers also say that it is important to maintain the systemsand technologies needed for a successful elimination program in orderto prevent a relapse.
Malaria is a disease that is caused by sporozoan parasites that aretransmitted by the bite of anopheline mosquitoes, and is characterizedby periodic attacks of chills and fever. Complications from theinfection can be life threatening.
Upstate's Center for Global Health & Translational Science is amultidisciplinary, applied research center, engaging faculty from theCentral New York area to work in partnership to improve the delivery ofhealth care globally. Staff is engaged in center-based andfield-research projects in several countries around the world, includingEcuador, Thailand, Kenya and the United States.
To support the Center's initiatives, visit the Center for Global Health Engagement Opportunities Fund administered by the Upstate Foundation.
Caption: Malaria is a disease that is caused by sporozoanparasites that are transmitted by the bite of anopheline mosquitoes,above.