Radiothon for Kids to benefit children's cancer care, research at children's hospital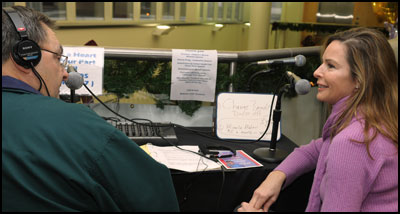 SYRACUSE, N.Y. — Pediatric cancer care and research at Upstate Golisano Children's Hospital will be the focus of Radiothon for Kids, to be broadcast live from University Hospital Dec. 2 and 3, from 5 a.m. to 7 p.m. on Newsradio 570 WSYR and Hot 107.9.
WSYR's Joe Galuski and Jim Reith and Hot 107's Marty and Shannon will host the two-day event that includes interviews with pediatric patients and their family members, members of the pediatric team at the children's hospital and community advocates for children's health.
Featured interviews include the family of 17-year old Taylor Matt who is awaiting a bone marrow transplant. Listeners will also learn of the efforts of William Kerr, Ph.D., to improve the success rate of bone marrow transplants. Kerr, a biomedical researcher at Upstate Medical University, is studying an enzyme (SHIP) that may be involved in the rejection of bone marrow and organ transplants.
Listeners may make a pledge during the radiothon by calling 464-KIDS (5437). All money raised through the radiothon remains in Central New York to benefit the children treated at Upstate Golisano Children's Hospital. Individuals serving as change bandits also raise money by collecting loose change from friends, family members and coworkers. Bandits will bring their filled bags or canisters to University Hospital Dec. 2 and 3.
The radiothon is presented by NewsRadio 570 WSYR, Hot 107.9, Upstate Medical University Foundation and the Children's Miracle Network.
Last year's radiothon raised more than $52,000.