Town meeting seeks ideas on Kennedy Square redevelopment; set for Nov. 13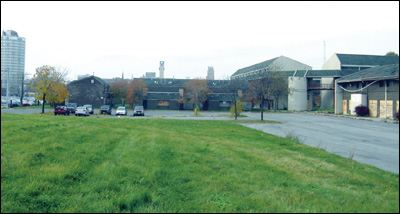 SYRACUSE, N.Y. — SUNY Upstate Medical University representatives will ask the community for ideas on the redevelopment of Kennedy Square during a town hall meeting Thursday, Nov. 13, from 6 to 8 p.m. in the atrium of the Institute for Human Performance (IHP), 505 Irving Ave. Free parking is available in the lot behind the IHP. The lot entrance is located on Madison Street.
To reserve a request to speak at the town hall meeting, individuals should contact SUNY Upstate at 464-4513 or email prottn@upstate by Nov. 11 at 5 p.m. Testimony is limited to 5 minutes. Individuals interested in attending, but not speaking at the session, should also call the aforementioned number.
SUNY Upstate will use approximately four acres of the site to build the New York Biotechnology Research Center, a $40 million public/private alliance created to stimulate economic activity and create jobs in New York using biotechnology as a driving force. The center will create and support biotechnology, educational and research programs with its major partners, SUNY Upstate and SUNY College of Environmental Science and Forestry.
Development ideas are being sought for the remaining 10 acres. Early discussions have suggested that the land be used for residential, educational and commercial use. The land would be developed by private developers.
Kennedy Square is a 14-acre parcel located north of campus, bordered by E. Fayette Street on the south, Forman Avenue on the west, E. Water Street to the north and S. Crouse Ave. to the east.
Empire State Development Corp. announced earlier this year that it would transfer the Kennedy Square land to SUNY Upstate for development.
A shuttle bus will leave from the parking lot of Housing Visions Inc., 1201 East Fayette St. for individuals needing a ride to the Institute for Human Performance (IHP). The shuttle will depart for the IHP from Housing Visions at 5:45 p.m. and return no later than 8 p.m.