SUNY Upstate participates in national study that finds cancer drug sets survival standard for myeloma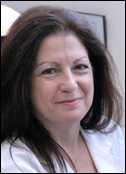 SYRACUSE, N.Y. — SUNY Upstate Medical University Professor Teresa Gentile, M.D., Ph.D., calls the findings of a major drug study for multiple myeloma "significant" and "great news" for patients battling the bone marrow cancer.
The New England Journal of Medicine reports in its Nov. 22 issue on findings from two large, international clinical trials of the drug Revlimid, also known as lenalidomide. The findings show that all measures of myeloma showed significant—and in some cases unprecedented—improvement in patients where previous treatments had failed. This includes extending median survival of nearly three years (35 months) with Revlimid, the longest median survival in this difficult to treat patient group. Survival data from two Phase 3 clinical trials, one from the United States and one from Europe, are published together in the current issue of the New England Journal of Medicine.
SUNY Upstate was one of numerous medical facilities in the United States to participate in the clinical trial. Four patients treated by Gentile participated in the clinical trial.
"This drug, bolstered by these significant findings, is one of the major advances in the treatment of myeloma over the last several years," Gentile said. "This is a well-tolerated drug that benefits survival rates."
Gentile said such results indicate the importance of continuing to fund cancer research and drug development. "With each study, we are finding better and better drugs and medications to combat all forms of cancer. For anyone working with cancer patients, this is extremely encouraging news," she said.
Myeloma, also called multiple myeloma, is a cancer of the bone marrow that affects production of red cells, white cells and stem cells. Although once considered a rare disease of the elderly, it is of growing interest and concern. Studies by the International Myeloma Foundation point to environmental toxins and pollutants contributing to this spread of myeloma, while better diagnostic capabilities are helping to find more cases earlier in the course of the disease.
A recent (Oct. 15) report from the American Cancer Society shows that the incidence of myeloma is increasing despite a trend toward decreasing cancer rates in recent years. Myeloma also is being diagnosed in younger people. Half of the patients diagnosed today are younger than 60, and increasingly the disease is detected in patients under the age of 40.
In Europe and the United States, Revlimid has been approved for use in multiple myeloma, and in the United States it is also approved for a pre-leukemia condition called MDS. It is also being tested in other leukemias and lymphomas and even solid tumors.