SUNY Upstate Gala will support creation of key center to strengthen clinical research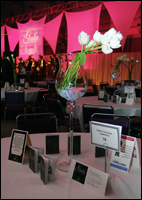 SYRACUSE, N.Y. — SUNY Upstate Medical University Gala, to be held Dec. 14 at the Hotel Syracuse, will support the creation of a Center for Clinical and Translational Research.
"The establishment of such a center is needed as the university seeks increased support for its research from various sources, including government, foundations and industry," said Ruth Weinstock, M.D., Ph.D., gala chair and SUNY Upstate professor of medicine.
The center's goal will be to promote and provide support for patient-oriented clinical research that directly relates to improving patient care, disease management, disease prevention and health improvement. Neurological and degenerative diseases, cancer, diabetes and metabolism, vision, environmental health, genetic diseases, psychological illnesses and cardiovascular disease will be among the center's critical areas of interest.
Weinstock says the center will foster collaborations and interactions across the SUNY Upstate campus, as well as with neighboring institutions such as Syracuse University, the University of Rochester and other partners.
In addition to Weinstock, gala co-chairs are Lois Bronstein, M.D.; Barry Knox, Ph.D.; and Virginia and Frederick Parker, M.D. A patron party at the hotel, located at 500 S. Warren St., Syracuse, will begin at 7 p.m.; the gala officially begins at 8 p.m. Pascale Catering will provide two different menus of fine hors d'oeuvres and desserts in the Persian Terrace and Imperial Ballroom. Bob Piorun and the Convertibles will entertain in the Persian Terrace with the Skycoasters performing in the Imperial Ballroom.
For gala sponsorship opportunities and reservations, call 464-4416 or visit www.upstate.edu/foundation.