Amy Friedman, M.D., named director of transplantation at SUNY Upstate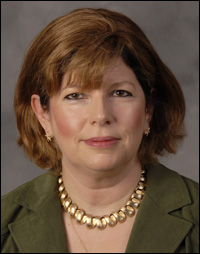 SYRACUSE, N.Y. — Amy L. Friedman, M.D., who has held faculty positions at Yale University School of Medicine and the University of Pennsylvania, has been named director of SUNY Upstate Medical University's Division of Transplantation. Friedman also will serve as a professor of surgery in the College of Medicine. University Hospital of SUNY Upstate performs pancreas and kidney transplants.
Friedman joins the SUNY Upstate faculty from Yale University School of Medicine where she served as a member of the surgery faculty since 1994. Prior to joining Yale, Friedman served on the faculty of the Hospital of the University of Pennsylvania, including as transplant surgery fellow.
As a surgeon, Friedman specializes in live donor kidney transplantation, laparoscopic kidney donation and pancreas transplantation.
Friedman has served as principal investigator for numerous drug trials and led a $1.5 million NIH-study on using the Web to educate kidney transplants recipients on drug regimens.
Friedman is editor in chief of the Journal of Patient Safety and Adherence and serves as an article reviewer for Archives of Surgery, American Journal of Transplantation, Transplantation and the American Journal of Kidney Diseases.
She earned her bachelor's degree from Princeton University in 1979 and her medical degree from SUNY Downstate in 1983, where she served as a postdoctoral fellow in surgery. Friedman also completed her residency in general surgery at SUNY Downstate.
Friedman has been recognized for her medical care and research efforts by numerous organizations, including the U.S. Department of Commerce, with the Malcolm Baldridge National Quality Award, the American Association of Kidney Patients and the American Transplant Congress.
Friedman is a resident of Manlius.