Upstate Neuroscience Research
At SUNY Upstate Medical University, we take a multi-dimensional and highly collaborative approach to unlock the mysteries of the mind and to comprehend and treat some of the most devastating complex disorders of the nervous system.
A Collaborative Approach
Centered in the departments of Neuroscience & Physiology, Neurosurgery, Ophthalmology & Visual Sciences, and Psychiatry & Behavioral Sciences , which together with colleagues at Syracuse University, constitutes a vibrant research community.  Our Neuroscience community has strengths in neurodevelopment and neurodevelopmental disorders, neuropsychiatric disorders and diseases, addiction, neurodegenerative disorders and neural trauma, eye development and disease, neuro-oncology, and neuro-immunological disorders.
The Neuroscience Research Building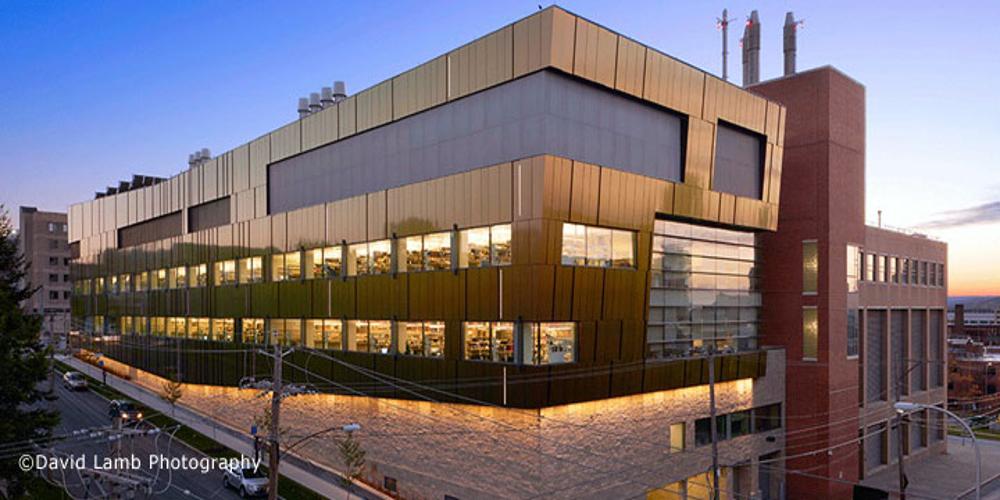 In early 2014, basic and clinical neuroscience research were brought together in the Neuroscience Research Building (NRB). By creating the NRB, we are investing in a future where neuroscientists will be increasingly called on to solve burgeoning public health issues.
With its numerous state-of-the-art facilities and its removal of barriers and boundaries between disciplines and departments, the NRB will enrich ongoing research collaborations and foster new research endeavors. The combined knowledge and skill of all researchers will thereby be brought to bear on the most challenging research questions in neuroscience.
Never has there been a more exciting time to be a neuroscientist at Upstate.