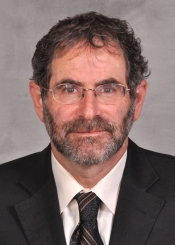 315 464-5203
Jeremy Shefner, MD, PhD
Upstate University Hospital
750 East Adams Street
Syracuse, NY 13210
CURRENT APPOINTMENTS
SPECIALTIES
Clinical Neurophysiology
Neurology
LANGUAGES
PATIENT TYPE
PATIENT RATING
RESEARCH PROGRAMS AND AFFILIATIONS
Neurology
Neuroscience Program
RESEARCH INTERESTS
Clinical Therapeutics of ALS and other motor neuron disorders. Animals models of the physiology and treatment of amyotrophic lateral sclerosis (ALS); Peripheral nerve physiology.

ASSOCIATIONS / MEMBERSHIPS
ALS Association (ALSA)
American Academy of Neurology (AAN)
American Neurological Association
EDUCATION
Fellowship:
Harvard Medical School, 1990, Clinical Neurophysiology
Residency:
Harvard Medical School, 1988
Residency:
Beth Israel Hospital, 1984
MD:
Northwestern University Medical School, 1983
PhD:
University of Illinois at Chicago, 1976
RESEARCH ABSTRACT
Therapeutic Trials in Patients with ALS.
With Dr. Merit Cudkowicz of Massachusetts General Hospital, I am co Chair of the Northeast ALS Clinical Trials Consortium (NEALS). NEALS is the largest ALS research consortium in the world, consisting of 97 clinical trial sites in the US and Canada. We have performed 8 clinical trials in the last 10 years, and are currently involved in 5 ongoing trials. I am co-principal investigator of the NIH funded trial of Ceftriaxone in ALS, and am the lead investigator in the ongoing development of a fast skeletal muscle activator in collaboration with Cytokinetics, Inc. NEALS has established a significant clinical trials infrastructure, including cores for clinical trial management, an electronic data capture system, data management, outcomes measure training, and clinical monitoring cores. These are distributed between Upstate Medical University and Massachusetts General Hospital in Boston, MA.
Studies of motor units in patients with ALS and other motor neuron diseases
I have developed a new method for the non-invasive assessment of motor units in patients with ALS and other motor neuron disorders. The first analysis of patients with ALS using this method has recently been published in Neurology. This method is now being employed in multicenter trials of patients with ALS and Spinal Muscular Atrophy. I am responsible for training and validation of sites, and expect that these studies will both provide valuable insight into the pattern of motor neuron loss in these diseases, as well as provide a sensitive marker of therapeutic efficacy.
PUBLICATIONS
Link to
PubMed
(Opens new window. Close the PubMed window to return to this page.)