Early Specialization in Stroke Neurointervention / Interventional Stroke Pathway (ESNI)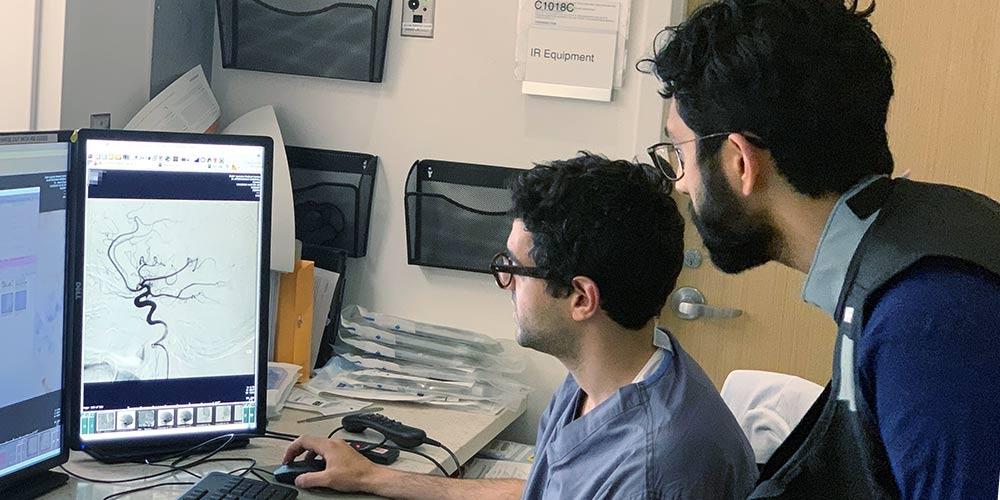 SUNY Upstate Medical University Hospital is proud to offer a training pathway tailored for Neurology residency applicants interested in pursuing a career in Vascular Neurology and Stroke Neurointervention.
The residency program pathway is structured to provide additional subspecialty training in all aspects of Stroke management including the delivery of intravenous thrombolysis and endovascular treatment of ischemic cerebrovascular disease. Through dedicated rotations managing patients on the Stroke and NeuroICU services, while also covering the Neuroangiography suite, residents will gain the necessary clinical experience and training necessary for proficiency in diagnostic cerebral angiography and exposure to the endovascular treatment of stroke (obtaining procedural skills over the course of the PGY-3 and PGY-4 years of residency training). The resident will work with faculty in the departments of Neurology, Neurosurgery and Radiology. For interested trainees there are additional opportunities in the performance and interpretation of Neurovascular ultrasound studies.
After successful completion of the residency program, SNI candidates will have preferred selection for an internal fellowship position in the combined Vascular Neurology fellowship training program at Upstate University Hospital Comprehensive Stroke Center.
A post residency combined 1-2 year Vascular Neurology and Stroke Neurointervention fellowship training program is available to eligible residents (no VISA sponsorship is currently available for the second year (non-ACGME)). The fellow may serve as Clinical Instructor in the second year, with opportunities to participate in the attending Stroke and Telestroke service line. The combined 2-year program allows clinical fellows in the ACGME accredited Vascular Neurology program to extend training with a non-ACGME year to gain additional experience for proficiency in diagnostic cerebral angiography and interventional stroke procedures.
Graduates of our combined fellowship program are board eligible for the ABPN Vascular Neurology Board certification exam and may choose to go on to practice Stroke Neurointerventions at a Level-2 / Thrombectomy-capable stroke center (TSC) or pursue additional training in Interventional Neurology.
The goal of this training pathway is to establish a clear route for Neurology residents to obtain expertise in the comprehensive care of stroke patients, to include the delivery of both medical (IV thrombolysis, secondary prevention, diagnosis and prevention, neurorehabilitation) and endovascular therapies for acute ischemic stroke (e.g intra-arterial thrombolysis/spasmolysis, angioplasty and stenting, mechanical thrombectomy).
The pathway also affords interested Neurology residents early exposure and hands-on training in the technical aspects of diagnostic cerebral angiography and neurointervention, embedded in their residency training, and serves as a platform for trainees pursuing Interventional Neurology fellowship training post graduation.
---
Trainees
---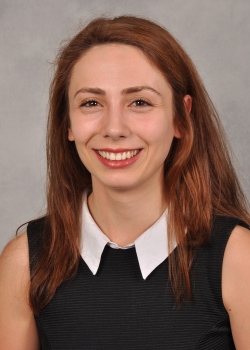 Aydan Kahriman, MD
Training Dates:7/1/2022–6/30/2026
"Evaluation and treatment of stroke are assessed by a neurologist which makes exposure to interventional procedures crucial for educating neurologists. Starting with the PGY-1 year, residents are trained by credentialed physicians who structured the stroke Neurointervention track to encourage cognitive knowledge of pathophysiologic vascular processes. Residents receive clinical experience on the Neuro ICU and Stroke services. There is hands-on experiences in the angiography suite, and exposure to the techniques used in day-to-day practice which is a golden opportunity. As a member of the SNI track, I am gaining procedural skills, a stronger understanding of vascular neurology, and the ability to recognize and prevent complications in a standardized curriculum. I feel this will make me a skilled neurologist and a strong applicant for fellowship."
---
Adam Blanden, MD, PhD
Training Dates: 7/1/2021–6/30/2024
"The ESNI program gives me the opportunity to see and treat the entire range of stroke patients in all phases of stroke care. As a neurology resident at a comprehensive stroke center I get training in code, consult, neuro ICU, floor, and outpatient medical management of stroke patients. As an ESNI resident I get to go into the angio-suite and get training in diagnostic and interventional angiography required for procedural management of stroke patients. At the end of my training, I want the entire toolkit, and ESNI gives me the path to build it."
---
Yash Nene, MBBS
Training Dates: 7/1/2021–6/30/2024
"The ESNI pathway is a great opportunity for residents to learn the intricacies of cerebrovascular anatomy in the angiography suite. The program not only allows us to become comfortable with all aspects of stroke care, right from acute interventions to workup and secondary prevention followed by rehabilitation, but also enables us to go a step further by developing procedural skills in cerebral angiograms and neurosonology. I am fortunate to get this opportunity early on in my training, and am confident that this experience will help me immensely when I apply for fellowship and in my career after that as well."
---
Neil Suryadevara, MD
Training Dates: 7/1/2019–6/30/2021
"The ESNI track at Upstate interested me as it provides a unique opportunity to be very much involved with and learn about acute stroke intervention early on in residency. Residents in the ESNI track work alongside and learn approaches and techniques from experienced neurointerventionalists from three different disciplines. In addition to attendings, the IR staff is friendly, knowledgeable, and frequently teach inside and outside the angio suite. The ESNI track is also a great opportunity to confirm fellowship interest."
---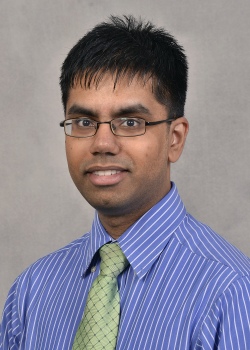 Aravind Reddy, MD
Training Dates: 7/1/2020–6/30/2022
"The ability to visualize and treat various cerebrovascular pathologies drew my clinical interests towards interventional neurology. Upstate's ESNI pathway is unique in that it allows for early exposure to interventional neurology that would not otherwise be available to many neurology residents. It provides multi-disciplinary training with clinicians from different fields. The Neuro IR staff are always welcoming and willing to teach. The early exposure to neurointerventional cases will help with gaining much needed experience for future fellowships."
---
Ishpreet Singh, MBBS
Training Dates: 9/1/2021–8/30/2023
"The ESNI training at Upstate is an incredible pathway to learn the procedures such as Mechanical thrombectomy, DSA, Spasmolysis and Aneurysm coiling etc. As a Neurology resident, I find ESNI track very helpful in learning from attendings of different specialties. This exposure in the beginning of residency would be instrumental in deciding the fellowship interests and research prospects in this rapidly evolving field of Neuro-intervention."
---
Frequently Asked Questions
Expand all
What is SNI?
Specialization in Stroke NeuroIntervention (SNI) is a training option for adult neurology resident applicants who identify an early desire to specialize in Vascular Neurology and Stroke Neurointervention. SNI training includes a total of 16 weeks of dedicated Neurointerventional service rotations over the course of the PGY3 and PGY4 years of Neurology residency training. Trainees will participate in the continuum of acute stroke management bridging patient care from initial diagnosis and management, through IV thrombolysis, to the Neuroangiography suite while serving as Stroke Sr., with additional exposure to the tenets of neurocritical care on the NeuroICU service.
The SNI pathway provides early training in Neurointervention built into the residency program, strengthening the application of Neurology trainees planning on advanced fellowship training in Interventional Neurology/Endovascular Surgical Neuroradiology/Interventional Neuroradiology after completion of the residency program.
What is the combined fellowship?
The Upstate combined Vascular Neurology and Stroke Neurointervention post residency fellowship comprises 1 year of ACGME-accredited vascular neurology with 1 year of non-ACGME training in Stroke Neurointervention.  The second year of fellowship includes opportunities to serve as faculty, participating in Telestroke and the inpatient Stroke service, providing our trainees with comprehensive experience and confidence in the management of all aspects of cerebrovascular disease by the end of the 2-year fellowship. Fellows will participate in stroke neurointerventions and log cases across both years of training. For foreign medical graduates with visa restrictions, at the moment Upstate is unable to sponsor J-1 for the (non-ACGME) second year (please contact for updates).
What proceduress are included in Stroke Neurointervention / Interventional Stroke?
Digitally subtracted catheter cerebral angiography, mechanical thrombectomy (including use of stent-retrievers, aspiration devices), microcatheterization of cerebral vessels, intra-arterial administration of spasmolytics, percutaneous intra and extracranial balloon-angioplasty and stenting, transradial and alternative access. Trainees will also gain experience in the interpretation of neuroimaging related to cerebrovascular disease including, but not limited to, CT/MR angiography of the head and neck, CT perfusion imaging of the brain, and Carotid/Transcranial ultrasound.
What are the procedural requirements for completion of the fellowship program?
Successful completion of the program requires demonstrated understanding of the basic indications for catheter angiography and stroke intervention, technical mastery of biplanar fluoroscopy equipment including basic catheter and wire manipulation in the cerebrovascular system and rapid interpretation of angiographic images, familiarity with the use of all current FDA approved thrombectomy devices in acute ischemic stroke, recognition and management of intraprocedural and postprocedural complications, and basics of post procedural management in a neurocritical care setting. Candidates are expected to maintain a case log of all diagnostic and neurointerventional procedures during their training; to regularly participate in neuroscience conferences and morbidity/mortality conference with an emphasis on quality improvement and resident education. Candidates are strongly encouraged to produce original manuscripts for presentation and/or publication in the field of stroke and neurointervention. If so desired, fellows may extend their training to increase their case volume experience. Trainees will adhere to performance standards set during the ACGME year.
How are candidates selected for the ESNI pathway?
Applicants to the Neurology residency training program may express interest internally early in their intern year (PGY1/PGY2). The deadline for consideration is Spring (April/May) of the PGY2 training year. Interested residents undergo interviews with the Program Director, lead Neuro-IR technologist and Attending Neurointerventional staff prior to selection. The SNI pathway begins at the start of the PGY3 academic year (July 1st) of the adult Neurology residency program. After graduation there are 1-2 Vascular Neurology fellowship positions available for PGY5/6 year of training.
What is the orientation process?
Selected residents undergo mandatory radiation safety and conscious sedation management training prior to starting the PGY3 year. Trainees must maintain yearly NIHSS certification and complete ENLS (emergency neurologic life support) training (certification is valid for 2 years). Trainees are oriented to the Neuroangiography suites and equipment by the Neuro-IR technologist and/or Neurointerventional attending.
Where are the training sites?
Bi-plane Neuroangiography suites (3N and IR-Cancer Center Hybrid OR)
Neuroscience unit (floor, step-down and NeuroICU, University Hospital Downtown campus
Stroke and Interventional Neurology Clinic, UHCC
Neurosonology Lab, Downtown campus and Fly Road Neurology clinic
2N inpatient rehab unit, Downtown campus
Vascular Neurology Fellowship and ESNI Pathway Program Director
Neurointerventional Faculty

Amar S. Swarnkar, MD, Interventional Neuroradiology
Grahame C. Gould, MD, Cerebrovascular and Endovascular Neurosurgery
Hesham E. Masoud, MD, Vascular and Interventional Neurology
Vascular Neurology Fellowship Program Coordinator
Mary E. Phelan, BS, C-TAGME
Adult Neurology Residency Education Administrator
Mary E. Phelan, BS, C-TAGME