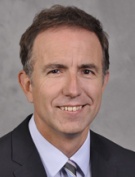 Luis Mejico, MD
Professor and Chair of Neurology
Welcome to the Department of Neurology at SUNY Upstate. I am sure you will have an enjoyable albeit busy 3 years with us. The entire faculty are eager to teach, your resident colleagues are friendly and capable, and we all work hard to make sure that as a team we provide the best possible care to our patients.
At Upstate, you will find a variety of opportunities to enhance your training. Beyond your required rotations, there are almost infinite possibilities for electives, either here or at other institutions. We also are committed to providing research opportunities within the context of specific rotations or longitudinally throughout your training. Although our faculty have significant clinical responsibilities, we are heavily involved in clinical research.
Over the last year, our Department had the 3rd most research funding of all the clinical departments at Upstate, even though we are quite small compared to many other departments. You will have opportunities to participate in clinical research in stroke, epilepsy, neuromuscular disease, and MS among other areas. The faculty are also available to work with you on projects related to your own interests, from case reports to more formal studies. Please feel free to meet with me personally or with any other faculty member about research opportunities. We are all happy you are here.
Luis Mejico, MD
Professor and Chair of Neurology