University Hospital is part of the SUNY Upstate Medical University and the only academic medical center in CNY. It has level I trauma center with 409 inpatient beds and 10 observation beds. It has 18,071 inpatient admissions and 51,262 Emergency department visits.
The Neuroscience floor in the 9th floor of the new wing of the hospital includes a 19 bed for both stroke and general neurology cases with telemetry monitoring capability. A step down unit is a 7-bed combination step-down, stroke and epilepsy monitoring unit. This unit is the primary support for patients admitted with newly diagnosed stroke in need of emergent TPA administration. All beds have state-of-the-art monitoring capability.
Neuroscience Intensive Care Unit is a state-of-the-art 8-bed neuroscience intensive care unit in Syracuse. The unit cares for critically ill patients who have sustained neurological trauma, injury and/or complex elective procedures.
Common patient diagnoses include:
Subarachnoid hemorrhage (SAH)
Brain tumors
Subdural hematoma (SDH)
Epidural hematoma (EDH)
Stroke
University Hospital is also a Level 4 comprehensive Epilepsy program. The Neuroscience floor also has Epilepsy Monitoring Unit at University Hospital. The Golisano Children's Hospital has a video EEG monitoring units for pediatric neurology.
Upstate University Hospital Downtown Campus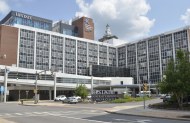 ---
Veteran's Administration Hospital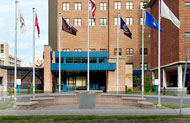 ---
Crouse Hospital
---
University Health Care Center