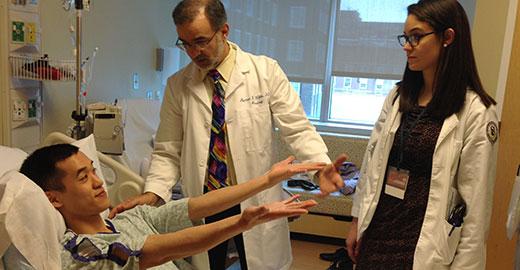 MSIV Electives and Acting Internships
The Department of Neurology offers electives and acting internships for 4th year SUNY Upstate medical students and medical students from other institutions. These electives are designed to expose students interested in Neurology to inpatient and outpatient populations. Students will expand their knowledge of Neurology, strengthen their localization and examination skills, and work in specialized areas of Neurology. Acting Interns will have increased responsibility and autonomy in their role within the Neurology team.
The Department of Neurology has the following electives:
Expand all
Adult Clinical Neurology Acting Internship - NEUR2801
Clinical Pediatric Neurology - NEUR2804
Delivery of Outpatient Care in Neurology - NEUR2807
Elective with Practicing Neurologist - NEUR2808
Neuro-Ophthalmology - NEUR2814
Neuroscience for the Primary Care Physician - NEUR2815
Prerequisites
Students must be in good academic standing in their 4th year of medical training to be eligible for participation in a Neurology elective or acting internship.
Registration
Registration for electives or acting internships can be done through the Registrar's Office. You can contact them at 315 464-4604 or Registrar@upstate.edu.