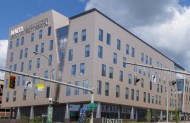 Nappi Wellness Institute
725 East Adams Street
Syracuse, NY 13210
Map & directions
---
Parking
The Nappi Wellness Institute is designed with your convenience in mind. Patients can be dropped off in the front circle under the awning.
Park in the West Garage, attached to the building at the second floor. Bring in your parking garage ticket with you. All parking in the West Garage is free for Nappi Wellness Institute patients, and will be validated during your visit.
If you would prefer to have your car valeted, please pull into the front circle at the Nappi building entrance and follow the signs for valet drop off. There is a $5.00 fee for this service.
For more information about additional parking options on the Upstate campus, please visit the Parking Office.