Profile: Christopher Morley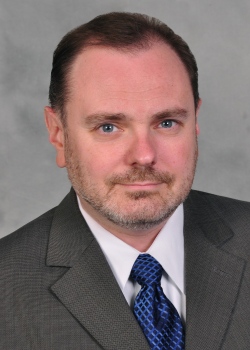 Dr. Morley is the Chair of the Department of Public Health and Preventive Medicine at SUNY Upstate Medical University, the Vice Chair for Research in the Department of Family Medicine, and a Professor of Public Health & Preventive Medicine, Family Medicine, and Psychiatry & Behavioral Sciences. He is a medical social scientist with principal interests in health disparities, particularly those that occur in primary care settings; health workforce development and medical education (particularly as relates to primary care and public health). Dr. Morley has also done work in primary care practice improvement, cancer screening  & prevention, health policy and ethics, and social determinants of health. He is also the Director of SALT-Net, the Department of Family Medicine's practice-based research network, and is a core faculty member in the Upstate Public Health Program.  
Dr. Morley's present research is largely focused upon medical education and health workforce development.  In particular, he studies how learners make choices about working as health care providers in underserved areas and in under-recruited areas of medicine and health, such as primary care and public health.  He also led and recently completed a 7-year, multi-institutional project to support safety-net primary care practices in advancing rates of screening for colorectal, breast, and cervical cancer. Presently, Dr. Morley is co-PI on a project funded by the NYS Health Foundation to examine deprescribing in skilled nursing facilities, and the lead evaluator on a PCORI-funded project. You can view Dr. Morley's publications on Google Scholar.
Dr. Morley has also been active in mental health research, including a study of how social factors such as race and insurance status affect the diagnosis and treatment of ADHD in primary care.  Additionally, Dr. Morley worked for a number of years on projects examining the genetics of Schizophrenia, Bipolar Disorder, and ADHD, and was the Co-PI of an NIH grant to collect the largest population sample of schizophrenia patients and health cases ever assembled, for the purposes of a Genome-Wide Assocation Study (1R01MH085548), from 2008-2013.  He was also the project director of a HRSA AAU-Primary Care award (D54HP05462) that funded the research infrastructure for the Department of Family Medicine, including SALT-Net activities, collaboration with Pediatrics and outside investigators, and student experiences in primary care and ethics research.
Dr. Morley is also an experienced research project manager with a strong history of scholarship and a decade of research experience and management in NIH-funded contexts.  He has served in essentially every research position (Technician/Abstractor, Analyst, First or Second Author, Presenter, Proposal Writer,  Project Manager, Grant Administrator, Investigator, Co-PI, Principal Investigator), and has nearly two decades of post-bachelors general management and professional experience in all.  He is published in a number of areas, including tobacco control, mental health, psychiatric genetics, public health, medical education, and ethics.  In addition to his doctoral and research experience, Dr. Morley's training and background include a Master of Arts in Public Administration from the top-ranked Maxwell School of Syracuse University, with a focus on policy analysis, and a certificate of advanced study in Health Services Management and Policy.
Primary Affiliations
SUNY Upstate Medical University
Professor & Chair, Department of Public Health & Preventive Medicine
Professor & Vice Chair for Research, Department of Family Medicine
Professor, Department of Psychiatry & Behavioral Sciences
LeMoyne College
External Member, Insitutional Review Board