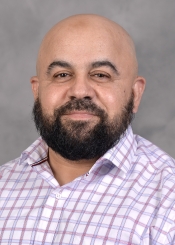 RESEARCH PROGRAMS AND AFFILIATIONS
Biomedical Sciences Program
RESEARCH INTERESTS
Immunoreceptor signaling during development, homeostasis, and effector function of T cells and NK cells.
T lymphocytes for adoptive cell therapy against hematological cancer.
The role of the transcriptional regulator in alternative signal pathways to assess' T cells cytotoxic function of hematological cancer cells
The role of adaptor molecule SLP-76 in hematological malignancies and bone marrow transplantation
The role of Tec family tyrosine kinases (ITK) and the activation of PLC-γ, Ca2+ mobilization, and ERK activation
ASSOCIATIONS / MEMBERSHIPS
American Association of Immunologists (AAI)
EDUCATION
Fellowship:
University of Pennsylvania School of Medicine, 2017
PhD:
University of Massachusetts, 2012, Immunology
RESEARCH ABSTRACT
Immune cells play a critical role in combating infections and cancers but can also be harmful in autoimmunity and immunopathologic states. Our laboratory combines efforts in both basic research and clinical investigation to advance the understanding of cancer immunology and to develop novel immunotherapies for cancer and autoimmune disorders.
Current projects in our laboratory are to understand how the modulation of immune cells receptor signals can be used to alter immune cell functions, and the interest of developing therapeutic strategies for immune cells mediated diseases.
Several projects are under investigation
Investigating the impact of manipulating TCR signal transduction pathways in normal and disease models. More specifically, we are interested to study the role of adaptor molecule SLP-76 in hematological malignancies and bone marrow transplantation. We are also investigating the role of Tec family tyrosine kinases (ITK) that regulate lymphocyte development, activation, and differentiation. Itk is a Tec family tyrosine kinase that is activated upon TCR signaling and is required for full TCR-induced activation of PLC-γ, Ca2+ mobilization, and ERK activation. We are specifically investigating the role on ITK in cytokine production, T cells migration, and T cells effector function and chemokine receptor expression in both normal and disease models.
T cells play critical roles in host defense against viruses, intra cellular microbe, and cancers. What is not clear is how the key transcription factors, T-box transcription factors, T-bet and Eomesodermin (Eomes) function as effector molecule in T cells during infection and immunopathologic states. We are also examining the role of the Wnt signal pathway, and T cell factor-1 (TCF1) signaling pathway, which is necessary for Eomes expression in naïve and memory CD8+ T cells during immunopathologic states.
We are examining the role of NKG2D signaling and surface expression in graph verses tumor (GVT) response after allogeneic bone marrow transplantation. More specifically we are investigating the association between NKG2D expression and GVT responses, both clinically and in vitro in a cohort of HSCT recipients with acute myeloid leukemia (AML).
Rotation Projects are available in all areas
Lab personnel:
Principle Investigator Mobin Karimi
Selected manuscripts
PUBLICATIONS
Link to
PubMed
(Opens new window. Close the PubMed window to return to this page.)