Each year, the Department of Internal Medicine is fortunate to interview between 400-450 qualified applicants for a combination of Categorical and Preliminary Medicine positions. These candidates are chosen from an applicant pool of over 7,500.
Applicants are selected from ERAS (Electronic Residency Application System) using selection criteria designated by the House Staff Selection Committee, a 16-member committee of faculty that are charged with selecting, reviewing and ranking the applicants each year to create a successful intern class for the following July.
Interview Dates
Our interview season runs from Late October through Mid January. 
Interview Day
Our Interview Day this year will reflect the new restrictions put in place as a result of Covid-19, which means we will only offer Virtual interviews conducted via Zoom.  There will be an optional Zoom "hang out" the Sunday before your scheduled interview with the Chief Resident and some of the current Residents. This will be a casual, relaxed atmosphere where the applicants can ask questions and get to know the Residents in the program.
Our proposed Interview Day Agenda we be as follows:
Time
Agenda
11:00am - 12:00pm

Program Director Welcome (Slide Show, Program Details, Q & A) - Dr. Stephen J. Knohl

12:00pm - 1:00pm

Noon Report

1:00pm - 4:00pm

20 minute interview with faculty member and 10 minute interview with Dr. Knohl. 

Concurrently, the Program Administrator, Program Staff, the Chief Residents and residents from all PGY Levels will be available to answer questions while you wait for your interview.
---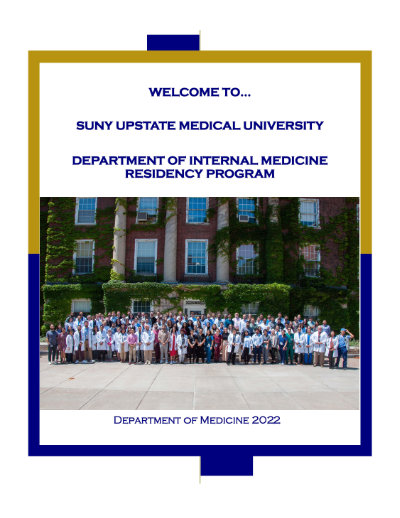 A virtual Happy Hour with the Internal Medicine Residents will take place the Sunday prior to your scheduled Interview. Zoom link will be sent from the Chief Residents via ERAS.
Virtual Tour of Upstate, Crouse and VA Hosptial - Details TBA
Forms
Program Overview
Meet the Educational Program Staff
Meet the Internal Medicine Faculty
Meet the Internal Medicine Residents
We encourage you to "Follow" Upstate IM residency @upstateimresidency and Upstate Women in Residency Life @upstate_WiRL on Instagram to see what our residents do on a daily basis and to check out our group that promotes women advancing in medicine! We also encourage you to "Follow" us on Twitter!